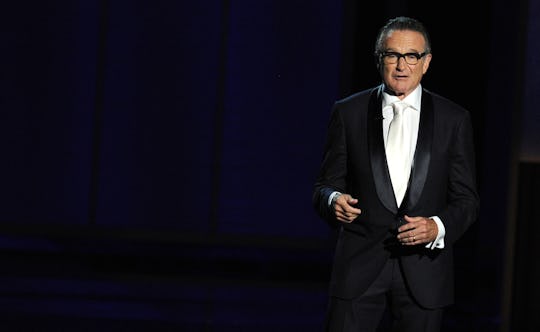 Robin Williams' Wife Says Actor Had Diffuse Lewy Body Dementia, Did Not Die Of Depression
Robin Williams' death in 2014 shocked and saddened family, friends, and fans all over the world. At the time, reports had indicated that he took his own life after a decades-long battle with depression. But after more than a year of remaining silent and refusing interviews about her husband's passing, Susan Williams said Robin Williams did not die of depression.
In her interview with People, Williams discussed the attenuating brain disease that took hold of her husband, and how it affected him, and them, in the last year of his life. The disease, called Diffuse Lewy Body Dementia or Dementia with Lewy Bodies (DLB), is often misdiagnosed because of its range of symptoms. "It was not depression that killed Robin," Williams said, dispelling the commonly held cause of the actor's suicide. "Depression was one of, let's call it, 50 symptoms, and it was a small one." 
Though you may have never heard of it, DLB is the second most common neurodegenerative, dementia-causing disease after Alzheimer's and can lead to symptoms ranging from hallucinations, to impaired motor skills, to unpredictable and fluctuating mental status. The Mrs. Doubtfire star began showing symptoms like anxiety, delusions, and hindered movement in the year before his death.  "[The symptoms] present themselves like a pinball machine," Williams said. "You don't know exactly what you're looking at."
In the days and months leading up to the actor's death, he had debilitating anxiety attacks, muscle rigidity, and suffered regular injuries from a loss of coordination. Williams said he seemed to be "disintegrating" in front of eyes.  Of those last weeks, she said, "We were living in a nightmare." Even with a team of doctors, no one knew exactly what was happening to the actor. It wasn't until the autopsy that Robin Williams was fully diagnosed. Williams told People, "I know now the doctors, the whole team was doing exactly the right things. It's just that this disease was faster than us and bigger than us." 
After a year of investigating the disease, Williams will continue to share what she's learned and advocate for DLB awareness and research. She said, "I've spent this last year trying to find out what killed Robin. To understand what we were fighting, what we were in the trenches fighting and one of the doctors said, 'Robin was very aware that he was losing his mind and there was nothing he could do about it.'"
If anything, she wants her case to help spread the word to others who may be affected so they, or their loved ones, can seek help. "This was a very unique case and I pray to God that it will shed some light on Lewy bodies for the millions of people and their loved ones who are suffering with it," added Susan Williams. "Because we didn't know. He didn't know."
Images: Kevin Winter, Jason Merritt/Getty