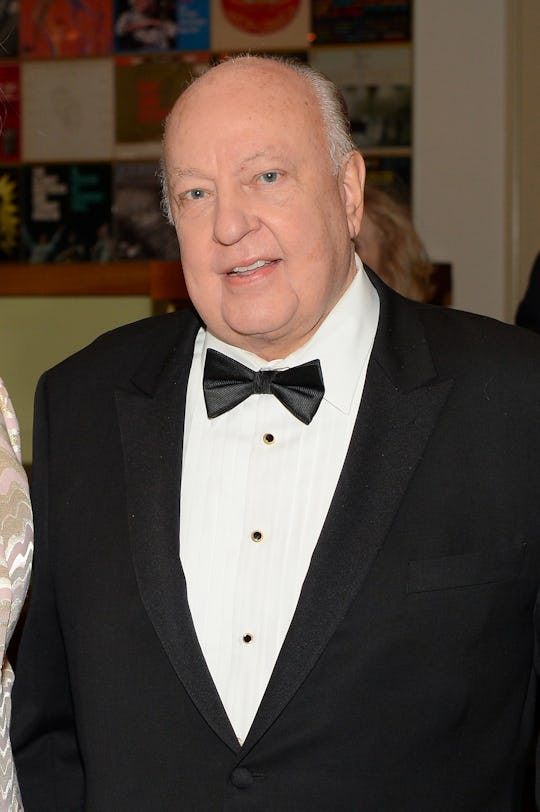 Andrew Toth/Getty Images Entertainment/Getty Images
Roger Ailes Could Be Fired & It's Major News For Women In Media — REPORT
Following allegations of sexual harassment, Fox News head Roger Ailes may reportedly be getting fired. According to multiple sources who spoke to New York Magazine's Daily Intelligencer on Monday, media tycoon Rupert Murdoch and his sons, who run Fox News' parent company 21st Century Fox, have allegedly decided to remove Ailes from his position, and are just trying to decide when. If Ailes is indeed replaced, it will be major news for women in media, and a promising sign that employers are starting to take sexual harassment claims more seriously.
The report claims that Ailes will be presented with two choices: resign or be fired. Ailes' spokesperson and 21st Century Fox did not immediately return requests for comment.
The questions about Ailes' conduct began when former Fox News host Gretchen Carlson filed a lawsuit alleging that she was fired from the network for refusing to sleep with him, and for complaining about sexual harassment in the workplace. According to the complaint, when Carlson met with Ailes to discuss discriminatory treatment, he said, "I think you and I should have had a sexual relationship a long time ago." He also reportedly ogled her in his office and asked her to "turn around so he could view her posterior." According to Carlson, when she refused to sleep with or engage in sexual banter with him, Ailes allegedly torpedoed her career at the network through various ways, ending in termination.
On July 6, 21st Century Fox released a statement regarding Ailes, as well as Carlson's former co-host Steve Doocy, whom she also accused of sexual harassment. The statement read,
The Company has seen the allegations against Mr. Ailes and Mr. Doocy. We take these matters seriously. While we have full confidence in Mr. Ailes and Mr. Doocy, who have served the company brilliantly for over two decades, we have commenced an internal review of the matter.
The rumored decision to oust Ailes is a huge one. According to multiple reports, Ailes has allegedly harassed women in the workplace for years. New York Magazine published a piece in the wake of Carlson's allegations, interviewing multiple women who claimed that Ailes acted inappropriately with them going back decades. One recalled Ailes allegedly telling her, "You know if you want to play with the big boys, you have to lay with the big boys," and claimed that when she rebuffed his advances, an important assignment she had been set to work on fell through, with a friend later telling her, "Word went out you weren't to be hired."
If Ailes is let go, it will be a huge win for women who have spent too long feeling ignored when they've dared to complain about mistreatment at the hands of more powerful men.
But, of course, many women at Fox have also claimed that Ailes never acted inappropriately towards them. And a spokesperson for 21st Century Fox said on Monday that the review of Ailes' workplace behavior was "not concluded," with the matter "not resolved."
So women hoping for a signal that the tide is turning when it comes to harmful workplace behavior will have to wait for now, but maybe not for too much longer.