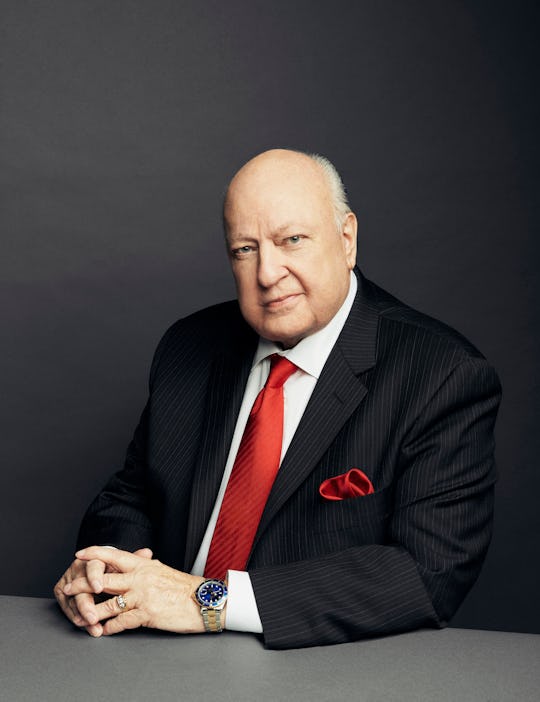 Handout/Getty Images Entertainment/Getty Images
Roger Ailes' Wife's Statement Concerning His Passing Is Touching
News broke early Thursday morning that Fox News creator Roger Ailes died at the age of 77. While public opinion of the prominent television executive is "mixed" at best, Roger Ailes' wife's statement regarding his passing shows another side of a man those who passionately disagreed with Fox News' "fair and balanced" take on the news, may not have seen.
Ailes' wife, Elizabeth Ailes, broke the news of her husband's passing via a statement released to the Drudge Report. Ailes, credited with "single handedly creating the power house that Fox has become in cable news and in politics," according to the Washington Examiner, is described by his late-wife as a "loving husband" and a "loyal friend to many." She went on to say Ailes was a "loyal patriot, profoundly grateful to live in a country that gave him so much opportunity to work, to rise — and to give back. During his career that stretched over more than five decades, his work in entertainment, in politics, and in news affected the lives of many millions." While the loss of any life is always heartbreaking, especially to family and friends, just how Ailes affected the lives of millions has left the reaction to Ailes' death to be, well, mixed.
Last summer, and somewhat discretely (or as discretely as one can be in the age of Twitter and instant news) Ailes lost his job in the aftermath of growing sexual harassment lawsuits. According to CNN, former Fox anchor Gretchen Carlson sued Ailes for sexual harassment. In her lawsuit, Carlson claimed, according to CNN, there had been "at least six instances when Ailes talked about her body, intimidated her or used demeaning language." Following Carlson's allegations, a number of other women came forward to support her claims, including popular Fox News start Megan Kelly. Ailes adamantly denied the allegations, and the lawsuit was settled out of court for a reported $20 million with 21st Century Fox, Fox News' parent company.
So, as the news of Ailes' passing continued to spread, many took to Twitter not to share their thoughts and prayers, but to look back at the allegations leveled against the Republican who, according to CNN, "saw long before most what television could do for the party."
In a response to what can only be described as a celebratory reaction to Ailes' passing, others retorted, claiming a joyous reaction to someone's death, no matter who that someone is or what that someone has done, isn't appropriate:
Regardless of the mixed reactions to Ailes' death, one thing is for certain and made very clear in his wife's statement: he was loved by his family, and his family will continue to miss him long after the "hot takes" surrounding his death have ended.