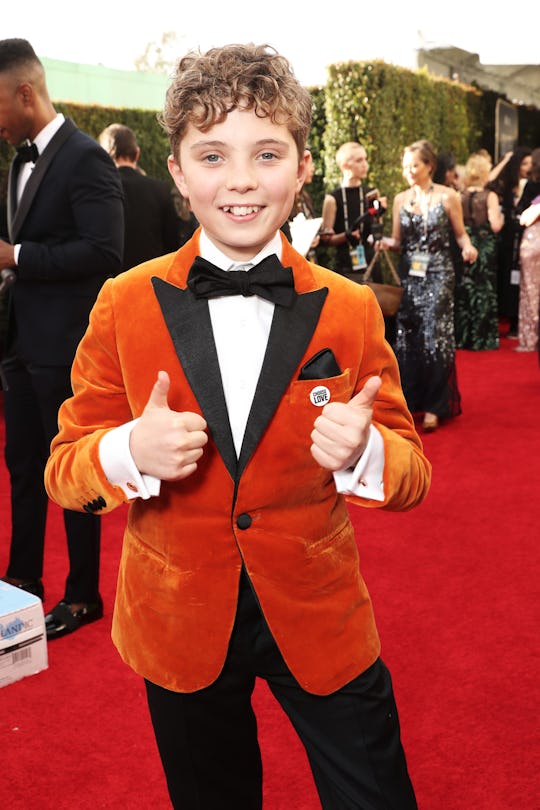 Todd Williamson/NBC/NBCUniversal/Getty Images
Roman Griffin Davis At The 2020 Golden Globes Was Hilariously Charming
What's better than a pint-sized leading man with an adorably crooked smile in a bow tie and a burnt-orange velvet blazer? Nothing, that's what. Ahead of the Golden Globes on Sunday, E! News caught up with celebs on the red carpet. Among them was a record-setting, young British actor. And JoJo Rabbit star, and we gotta say, Roman Griffin Davis at the 2020 Golden Globes was hilariously charming.
If you're not familiar with the WWII dark comedy, it's directed by Taika Waititi and based on a book written by Christine Leunens. Davis stars as Jojo Betzler, a dedicated member of the Hitler Youth who is livid when he discovers his mom is hiding a Jewish girl in their attic. Jojo — who has an imaginary friend, Adolf Hitler — is then forced to "make a choice between love and hate."
For those who have never seen the film, though, Davis' quirky interview on the Golden Globes red carpet was probably still a delight. Sporting a burnt-orange suit, the 12-year-old was incredibly chatty with Giuliana Rancic. (Personally, I couldn't help but smile through each question he answered — and the subsequent story he told.) Among Davis' hilarious anecdotes on Sunday was a particular part of his job that he enjoyed the most: "I think it should be like a tradition on your birthday, to be able to kick Hitler in the balls."
LOL. I mean, how can you not agree with this sentiment?
Even Hot Priest agrees:
Not long after Davis' entertaining interview with Rancic, one person tweeted, "The star of Jojo Rabbit saying everyone should be able to kick Hitler in the balls on their birthday is, as they say, A MOOD."
Plenty of other viewers were tickled pink by the young actor's red carpet interview, too. One Twitter user wrote, "Seriously how cute is Roman Griffin Davis! Would love to see him win for #JojoRabbit."
Another person tweeted, "Roman Griffin Davis is a delight and loved kicking Hitler in the balls. Well done @TaikaWaititi."
Yet another Twitter user wrote, "I put on the red carpet during the halftime nonsense and there's an adorable child named roman griffin davis talking about how his favorite part of making his film was "kicking hitler in the balls" and suddenly i feel better."
Clearly, the worlds needs more Roman Griffin Davis. Hopefully, we'll see the young actor on another red carpet again soon.