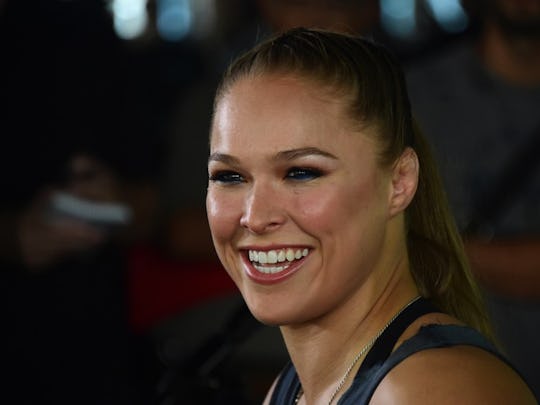 Frederic J. Brown/AFP/Getty Images
Ronda Rousey Will Host 'Saturday Night Live' With Selena Gomez & The Dynamic Will Be Totally Unpredictable
UFC Women's Bantamweight Champion Ronda Rousey will host Saturday Night Live on Jan. 23 with musical guest Selena Gomez, according to The Wrap. This will be the first SNL appearance for both women. Rousey is best known for her nearly-undefeated MMA career; she was undefeated until November, when she was knocked out by Holly Holm, according to Rolling Stone.
Rousey does have some acting experience, though: she had parts in The Expendables 3, The Fast and the Furious 7, and Entourage, and Variety reported that Rousey will reprise Patrick Swayze's role in Road House, a remake of the 1989 cult classic due to begin production in 2016.
This will be the first major public appearance for Rousey since her crushing defeat by Holm, an event that seemed to profoundly affect the fighter. "I'm just really fucking sad," Rousey told ESPN in an interview soon after the fight. "I just feel so embarrassed." In an essay for Vice, Rousey's sister, Maria Burns Ortiz, wrote that a part of Rousey "died" after the Holm fight, and that she had her "soul crushed."
Rousey has been largely absent from the public eye since the knockout, save for her ESPN interview and her attendance of the Marine Corps Ball, which a fan invited her to back in August, according to CNN. Rousey's social media accounts are mostly quiet, too, with occasional posts about movies and music, a couple of links to articles about her, and a very depressing Shakespeare quote:
It's good to hear that Rousey is finally getting out of the house, and perhaps out of her funk, at last. It'll be interesting to see if she can hold her own opposite Taran Killam, Kate McKinnon, and Cecily Strong. And I'd love to see her paired up with Leslie Jones! A UFC-themed sketch, perhaps? Lady Gaga may not be watching, but I will be.
Image: Frederic J. Brown/AFP/Getty Images