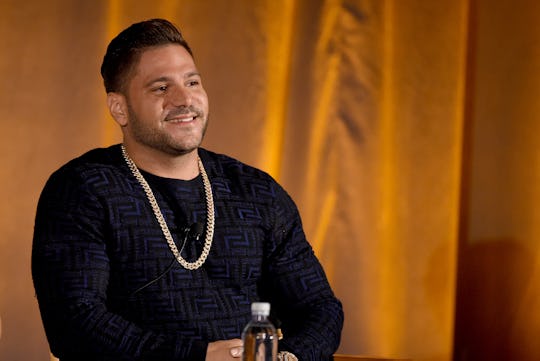 Kevin Winter/Getty Images Entertainment/Getty Images
Ronnie From The 'Jersey Shore' Is Going To Be A Dad!
Although the world didn't get a Kylie Jenner pregnancy confirmation for Christmas, that doesn't mean that some other faves are holding out on their fans. Ronnie from the Jersey Shore is expecting a baby with his girlfriend Jen Harley, according Us Weekly. The news is fairly unexpected, since he broke up with Khloé Kardashian's bestie Malika Haqq just last February. Harley's reportedly six months along with a baby girl.
Ever the joker, Ronnie Ortiz-Magro told Us Weekly in an exclusive interview that "even though every guy wants a boy," he's OK with having a daughter since he grew up with sisters. Lovely, right? He seems to be a little bit nervous, since he captioned a picture on Instagram confirming the interview with quite a few nervous hashtags.
Ortiz-Magro wrote through tags on Instagram, "I hear it's like having a puppy, except it cries, talks, eventually drives, eats every two hours, sh*ts every 23 minutes, naps 40 times a day, needs four different educations, goes to prom."
He thanked everyone who had been supportive and gave a "special thanks" to his other half. Maybe someone needs to go check on Ronnie, huh?
Harley already has an 11-year-old daughter from a previous relationship, according to Entertainment Tonight, so hopefully she'll be able to calm his nerves with her parenting skills. They're not married or engaged, as far as the public knows, but Ortiz-Magro said they had talked about it as a possibility this fall, though he didn't spill the beans on the pregnancy back then.
Ortiz-Magro really kept the pregnancy under wraps right up until his Instagram post and subsequent interviews over the Christmas holiday. On Friday, he posted a throwback pic of him and Harley high-fiving. He captioned the image, "Things in life never goes as planned or ever happen the way you expect it! #BestFriend #MyLife #LoveHer."
Back in November, fans got some hint that things were getting real between the couple. Ortiz-Magro told Us Weekly that things were working out with Jen. "We are serious. She is the first person I finally really fell in love with. I want to settle down and have a family; she is that person for me," he said of the mom-to-be.
Ortiz-Magro is also slated to appear in the Jersey Shore re-boot called Jersey Shore Family Vacation. When he confirmed his participation in the revival in November, the couple was already expecting, so the new baby shouldn't affect the filming or production of the show if you were counting down to its release. (There's no official date yet, according to PopSugar, but it's coming sometime in 2018.)
Almost all of the original cast members are signed on to film the show, except Ortiz-Magro's former love interest Sammi "Sweetheart" Giancola, who opted out of reliving her good old days.
Part of that decision might have had something to do with Ortiz-Magro's involvement, according to Snooki, who spoke about the reboot on her podcast. "Being that there was a lot of Ron and Sam drama when we did film, it was just really hard on both of them. So I just think she doesn't want that anymore," Snooki explained.
Snookie added, according to BuzzFeed News:
Everyone's asking why Sammi's not doing it. You have to ask her that — I'm not gonna speak for her. But Sammi is just in such a happy place that I feel like she doesn't want to jump back into that drama if it does happen.
It sounds like everyone in the original Jersey Shore cast is doing their thing and embarking on exciting new chapters. Maybe next year they can do a revival with all the babies, too.
Check out Romper's new video series, Romper's Doula Diaries:
Watch full episodes of Romper's Doula Diaries on Facebook Watch.