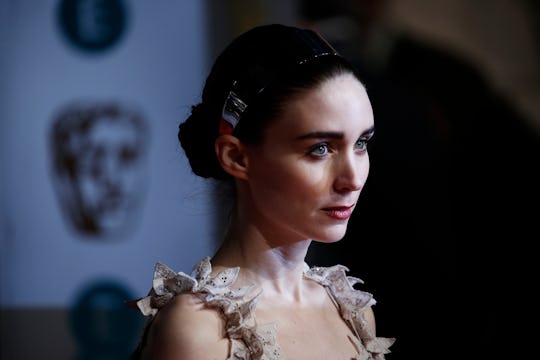 John Phillips/Getty Images Entertainment/Getty Images
Rooney Mara's Oscars Dress Is Reminiscent Of Her 2012 Choice
The 2016 Oscars marks Rooney Mara's second Academy Award nomination, and she was immaculately dressed for the occasion on Sunday night. Rooney Mara's Oscar dress by Givenchy was a high-neck, intricately embroidered item in a creamy white, and it both fit the ultra-glamorous occasion and stood out in a sea of more traditional, more feminine ensembles. It was a gown that wasn't entirely dissimilar to the one Mara wore for the 2012 Oscars — both were intricate and ivory in color, and she paired both with bold and alternative hairstyles.
Host Giuliana Rancic was an early fan, saying that she wanted to save her opinion for Monday's Fashion Police show, but unable to stop herself from gushing over the fact that Rooney's abdomen was showing but "somehow it's so chic and sophisticated. My god, she looks gorgeous."
Mara is up for the best supporting actress trophy for her role as Therese Belivet, the shopgirl who sparks the romantic interest of best actress nominee Cate Blanchett's titular character Carol. Mara was previously nominated in the best actress category for her role as Lisbeth Salander in 2011's very dark The Girl With The Dragon Tattoo, and her look at the 2012 Oscars was similarly edgy. For that event, her white dress was by Givenchy, and she paired it with red lips, and blunt bangs similar to those she wore in the film.
Here is Sunday's look:
And here is Mara in 2012:
Mara cares about fashion, and it always shows.