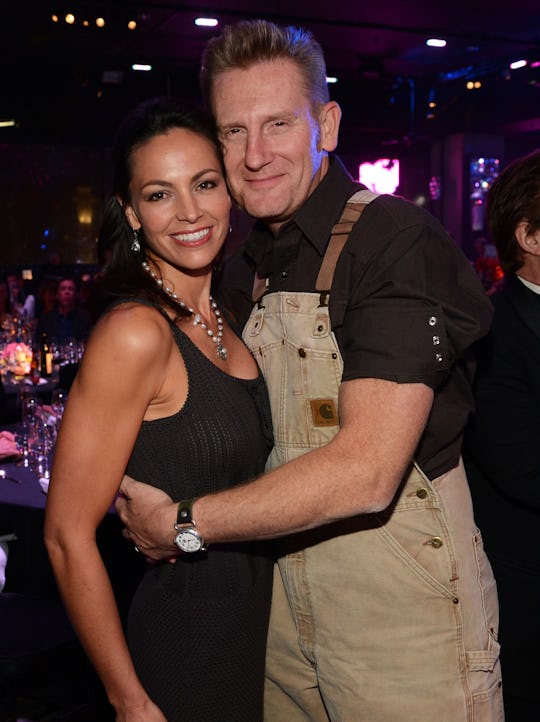 Rick Diamond/Getty Images Entertainment/Getty Images
Rory Feek Discusses Life Without Joey On Mother's Day, & His Words Are A Loving Tribute
Anyone who has ever lost someone knows that important dates and holidays become heartbreakingly difficult when you have to spend them alone. It's no surprise, then, that country singer Rory Feek found Sunday — the first Mother's Day since his wife Joey died from cervical cancer in March — to be a hard day. According to Us Weekly, Rory Feek discussed life without Joey on Mother's Day in a post on his blog, This Life I Live, and spoke about what it's like to become a single dad for the second time. While Joey's passing has meant that he is now raising their 2-year-old daughter, Indiana, by himself, he wrote in his post that for 10 years before meeting Joey, Rory was a single dad to his two daughters, Heidi and Hopie, from a previous relationship. And he admitted that, at the time, he probably wasn't the best dad that he could have been:
I can't tell you I was a great father. I tried. I think was a good father, but the truth is I was still a young man struggling to find myself, while the girls were growing and finding out who they were. I made so many mistakes and was so selfish. At times I was more concerned about being a great songwriter than being a great father. In a lot of ways, I think the girls raised me while I was raising them.
While neither he nor his wife ever dreamed that Indiana would be left without a mother, Rory wrote on his blog that he understands now that this is his second chance to be the dad to Indiana that he wanted to be with Heidi and Hopie, and that he could take comfort in seeing it as part of God's plan:
I remember [Joey's] tears falling and her saying, 'I don't want you to have to raise a child again by yourself… it's not fair'. Though I was worried about the reality of what was probably in our future, I tried to smile as I wiped Joey's tears and said, 'it's okay honey… now we know why God chose me to be with you'. I realized then that God knew what was in store and all those years by myself with the girls was Him preparing me for the job of caring for Indiana.
In his first interview following Joey's death, Rory told Billboard that the music the couple made together brings him "peace" now that she's gone, and that he and his youngest daughter listen to Joey sing every morning.
Every morning about 5:30, Indiana and I get up, and quite often I play her the Hymns record. Sometimes we'll listen and it'll make us smile. Indiana will do sign language to "Jesus Loves Me," just like she would with her mother. And then there are other times ... I'm making eggs, and emotional, and Indy doesn't quite understand it. But that's part of it — it's OK. I listen to it a lot, actually. I watch through our videos a lot. Being able to watch the videos, she's still alive. Hearing the music, she's still alive.
He shared that Hymns, the last record he and Joey would ever make together, was a labor of love, and that they recorded much of the album in hotel rooms and throughout Joey's chemotherapy treatment. While it wasn't an easy time for either of them, Joey's love for music and singing helped get her through, and the project turned out to be hugely successful — Hymns debuted at number one on both the Top Country Albums and Top Christian Albums charts, according to Billboard.
So what's next for Rory Feek? Although he certainly seems to be in no rush to return to songwriting, he did share with Billboard that he is currently working on producing an album for bluegrass singer Bradley Walker, who actually signed with Spring House Music Group after the company founders heard him sing at Joey's funeral — something Feek himself described as "pretty magical."
But more than anything, it's clear that Feek's number one priority is, and will always be, taking care of his young daughter and honoring his wife's legacy. And, on Mother's Day, that meant celebrating his wife as best he could:
Though my beautiful wife sleeps in a bed of clover behind our farmhouse, we still celebrate her on this special day and lift her up and give her flowers. This is not my day. It is hers. Joey loved being a mother more than anything else in the world. And she is still Indy's mama. And Heidi's and Hopie's.
For Feek, his family, and all the other people who also experienced their first Mother's Day without their partners or mothers, the day was surely bittersweet. But he's definitely doing the very best he can to make it through — and that likely won't change any time soon.