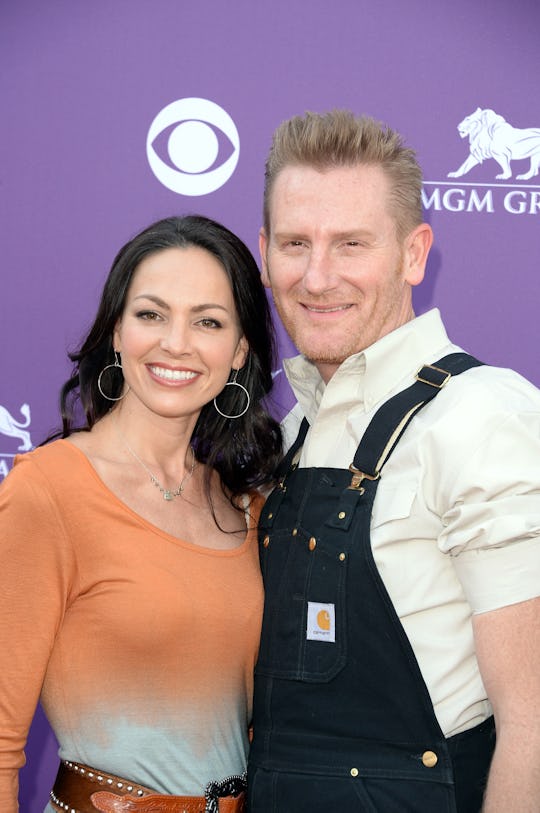 Jason Merritt/Getty Images Entertainment/Getty Images
Rory Feek Says His Daughter Doesn't Ask For Joey Anymore & It's Heartbreaking
If you've been following the story of Joey Feek's cancer battle, then you already know that the past few weeks (and months) have been agonizing for her family, and particularly for her husband, Rory. Joey died on March 4, leaving behind Rory and their 2-year-old daughter, Indiana. According to People, Rory Feek says his daughter doesn't ask for Joey anymore, which sounds entirely devastating, until you understand the reason why, and then your heart will explode.
In his blog post, "less is more," Rory explains that when Joey realized last November that she most likely was not going to beat her cervical cancer, she made a conscious decision to take a step back in Indy's life so that their little girl — who has Down Syndrome — could start becoming more attached to Rory than she was to her. The thought of preparing yourself to leave your young daughter's life is something that is so gut wrenching it borders on incomprehensible, but as Rory noted, by focusing on letting his relationship with Indy grow stronger, and by "[carrying] the pain on her own shoulders," Joey tried to keep their daughter from feeling the heartbreaking impact of such a huge loss. And it worked: according to Rory,
Indy has not asked for her mama. Not one single time since Joey's been gone. It's almost as if she hasn't noticed that she's not here.
As sad as that sounds, Rory noted that it is also a gift:
Indy doesn't quite understand what has happened. Why her papa is sad. Why friends hug us so tightly, and why tears fall from strangers' eyes when they say hello to us.
But even though Indy might not realize how profoundly her life has just changed, Rory insisted that he wouldn't let the memories she does have of her mother fade away:
She may not realize right now how incredible her mama is, but she will. I have made a career out of documenting our lives, and her mother… with songs and video and pictures and they are everywhere. I will play them for her. And tucked away in her little heart will be all of the beautiful memories of these first two years that she has shared with her mama and when the time is right, she will find them and they will make her smile.
Reflecting back on Joey's unbelievably loving decision, Rory admitted that, had he been in his wife's position, he probably would have "taken the low, easy road…I would've tried to make the ties with our baby stronger and her love for me deeper so that she wouldn't forget me." And he's certainly not the only one — I can't imagine the amount of strength it would take to not spend every second squeezing my children and soaking in every little ounce of love. But, by not doing so, she saved her family from even more pain, which is a remarkable gesture of selfless, unconditional love.
That's a pretty special legacy.