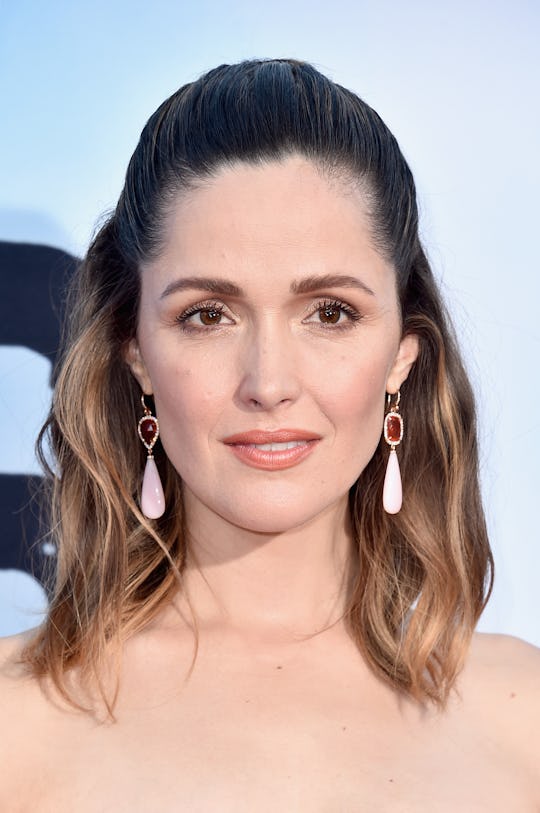 Alberto E. Rodriguez/Getty Images Entertainment/Getty Images
Rose Byrne's Breast Milk Was Confiscated By The TSA & Proves They Take Liquids Seriously
Rose Byrne, like every mother, knows the complications with traveling with a newborn. There is so much to think about — like whether or not the plane will be on time, wondering exactly how loud the baby will cry, and whether or not the baby will actually fall asleep. The last thing new mothers want to worry about is feeding their child or if their breast milk will pass the TSA inspection. So when Rose Byrne's breast milk was confiscated by the TSA I couldn't help but to feel sympathy for her.
Byrne is currently promoting the very hilarious Neighbors 2: Sorority Rising and is making the rounds to different talk shows — so when she made a stop to The Late Show with Stephen Colbert, Byrne told a story about traveling that most mothers could relate to.
Byrne is a first time mother to two-month-old son, Rocco, with partner and Vinyl star Bobby Cannavale. On the show, Byrne lamented to Colbert how she has not been able to get any sleep — which is probably very hard for her to do, being a new mother and full time working actress. But then, Byrne had an interesting story to tell all about her breast milk.
"I've been traveling a lot so I've been taking my breast milk everywhere with me," Byrne said. But did not know that the 3.4 liquid ounces rule applied to breast milk as well, sharing a photo of Byrne posing with a bottle of breast milk as it was being confiscated.
"They wave this weird thing over the top of it and there is a whole production going on and yes, they take it very seriously," Byrne said. "I just tell them that its really breast milk."
Unfortunately, Byrne's saga with the TSA is something that traveling mothers everywhere face. In April last year, actress Alyssa Milano went on a Twitter rant after security agents at Heathrow Airport in London, England confiscated 10 ounces of her breast milk.
According to the TSA's website, if you are traveling with breast milk, you can travel with more than 3.4 ounces, just as long as you separate it from the other liquids in your bag, and notify your TSA agent that you have breast milk with you in your carry-on bag. You can also let them know that you do not want the containers opened, which might happen during the security check. The TSA will also let you travel with ice packs to keep your breast milk cooled.
Even though the TSA is trying to keep everyone safe, it can be very frustrating for some moms who spend long, tiring hours during the day pumping. But just know that celebrities like Rose Byrne can understand completely.