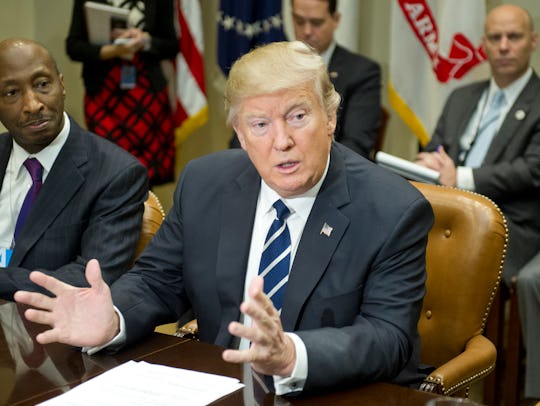 Pool/Getty Images News/Getty Images
Rose Ceremony Tweets Dominate The SCOTUS Naming
This week, on The Nation: Our eager (yet semi-egomaniacal) leader is faced with a difficult decision that leaves the entire country watching. Who will Donald Trump pick for the SCOTUS nomination, and more importantly, will that nominee accept the final rose. Will Neil Lane be there with a chest full of beautiful diamonds? Will Chris Harrison be hanging in the wing, ready to congratulate the (hopefully) happy couple? Will the two get a a spin-off where their happy relationship turns into an ugly, mean, hateful fight — one that makes the cover of magazines and papers everywhere? We'll find out on the most dramatic nomination of the Supreme Court.
Some are criticizing President Trump for his rather dramatic reveal of his Supreme Court nominee. There are two names that seem to be floating around for the final rose ceremony, er, Supreme Court nomination: Judge Neil M. Gorsuch and Judge Thomas M. Hardiman. Trump has been making this a rather unprecedented announcement, lighting the White House like he is about to, quite literally, reveal who he chooses to spend the rest of his life with. (Spoiler: The Bachelor doesn't have a great track record, but hey, if you've found the one, you've found the one.)
Both men are eager for the final pick, but undoubtedly have butterflies in there stomach. Will he or won't he? Twitter has something to say about the fact that President Trump, who currently has a disapproval rating that is rather yuge, is making this announcement like he is still on a reality show.
Gorsuch seemed to be a frontrunner, at least that's what Business Insider reported a day before the official nomination. Each season, there's always a bit of a frontrunner, but when you have a Bachelor — er, president — who is as wildly unpredictable like our current president, it's hard to know who he's going to give his final rose to.
Alas, Gorsuch was nominated by President Trump. The two stood side-by-side addressing the nation, promising their commitment to the nation and each other. For now, we'll have to wait and see just if these two last, but their journey sure has been something to watch, no?