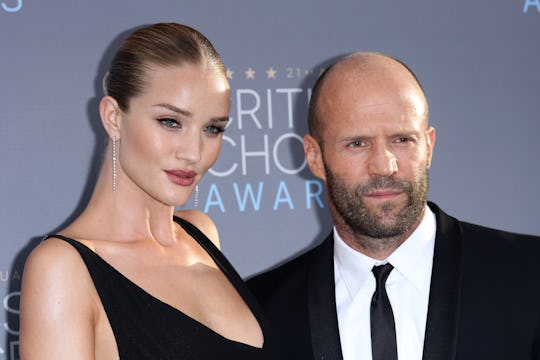 Mark Davis/Getty Images Entertainment/Getty Images
Rosie Huntington-Whiteley Is Pregnant With Her 1st
After more than a month of speculation by fans and gossip magazines, it's finally official: Rosie Huntington-Whiteley and Jason Statham are pregnant with their first child together. The model-turned actress shared the news on her Instagram account on Thursday, along with a photo of her posing in a bikini, showing that the pregnancy probably isn't all that recent. "Very happy to share that Jason and I are expecting!! Lots of love Rosie," read the caption. According to to Daily Mail, fans started to suspect that Huntington-Whiteley was expecting after she shared a photo of herself wearing a poncho on Jan. 2. Throughout December and January, her stomach was cut off or obscured in all of her posts, other than those from professional photo shoots, likely taken months prior.
The couple, who have been together since 2010, announced their engagement in January 2016 after fans noticed Huntington-Whiteley sporting a diamond ring when the couple attended the Golden Globes. Statham has remained rather tight-lipped about the couple's personal life; when questioned by E! following the engagement, the only soundbite he offered was, "She's a great girl." In an interview for the June 2015 cover of Esquire, Statham shared that the couple likes to "get drunk and float around the swimming pool." Not anymore!
Huntington-Whiteley is a bit more open about the relationship; in April 2015, according to Us, she told Self magazine, "We're best mates. He makes me laugh every day. I almost feel like I never had a proper boyfriend before!" She went on to explain why the couple isn't more forthcoming: "It's more work to put your relationship out there than it is to keep it behind closed doors," she said. "But my relationship is not a branch of my brand. It's my private life. Certainly, that's how he feels, too." She also said they were considering having children "in the near future," and a month later, she told Express that "Having a family is something I think about for sure."
Statham is the younger of two brothers. Before becoming a model and eventually an action star, he and his brother, Lee, worked in the family business of selling black market merchandise on the street alongside their father, Barry. This experience helped him break into the movie business, when he was cast as a con artist in Lock, Stock and Two Smoking Barrels. Huntington-Whiteley had a vastly different upbringing raising chickens, sheep, pigs, and horses on a farm with her two younger siblings, Florence and Toby. And now, presumably, their baby will grow up in Hollywood.