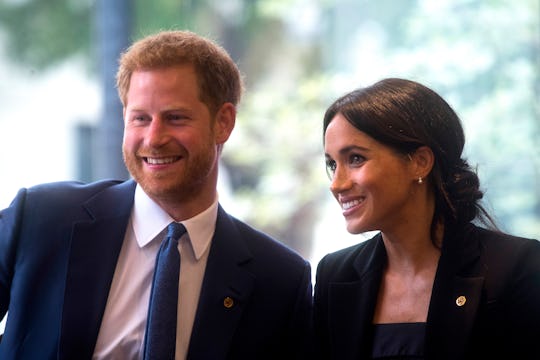 WPA Pool/Getty Images Entertainment/Getty Images
Prince Harry & Meghan Markle May Be Considering These 6 Names For Their Son
So much news is coming out of England today as Baby Sussex made his entrance into the world on Monday, May 6. The news about the little boy was first up on the couple's Instagram account, and then made official with the printed announcement displayed outside Buckingham Palace. So now we know the baby's delivery date and the sex, we just need to know the baby's name. So what are the royal baby boy name predictions that are leading the pack?
It's customary for members of the royal family to honor the tradition of the monarchy when naming new children, as Vogue noted. That means a few names tend to be recycled over time, with a roman numeral added to indicate which number that person is in the line. For example, according to Good Housekeeping, Queen Elizabeth II's father was King George VI, which makes Prince William and Kate Middleton's son Prince George VII.
But Prince Harry and Meghan Markle have a bit more latitude in naming their baby, since he is pretty far down the line of succession, coming in seventh, according to CBS News. That means they may opt for a more traditional first name paired with something more modern for the middle names, or vice versa. Whatever they do, they aren't in any hurry.
Indeed, in a brief interview Prince Harry did with the press today he said they are "still thinking about names," adding, "The baby's a little bit overdue, so we have a little bit of time to think about it."
So with all that said and as we wait for the couple to share their decision, here are a few that could be top contenders.