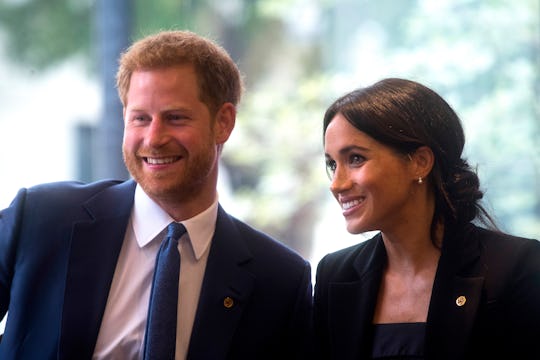 WPA Pool/Getty Images Entertainment/Getty Images
These Name Predictions For Meghan & Harry's Royal Baby Could Be Onto Something
It won't be long until Baby Sussex is here and the adoring public gets all our burning questions answered. In the meantime, though, fans are keeping busy guessing things like the sex, location of the birth, and of course, the name. So far, the most popular royal baby name predictions for Meghan Markle and Prince Harry's first child range from historical to sentimental. But since the Duke and Duchess of Sussex tend to be unconventional every so often, they could end up surprising us all.
Names are a big deal for the royal family. Parents usually bestow and least three, and often four, names on a new baby. And they love a good homage. Between the 41 people who have sat on the throne since the 11th century, there have only been 13 names used, according to Australia's ABC News.
It's not hard to spot the historical throwbacks. As Southern Living noted, consider names like William Arthur Philip Louis Cambridge or George Alexander Louis Cambridge. Even those royals who aren't in direct line for the throne follow the tradition. Queen Elizabeth's sister is Anne Elizabeth Alice Louise and Prince Harry is actually Henry Charles Albert David.
So how will Prince Harry and Markle honor the past while keeping with their more contemporary style? Here's a look at some of the most likely candidates, according to royal fans.