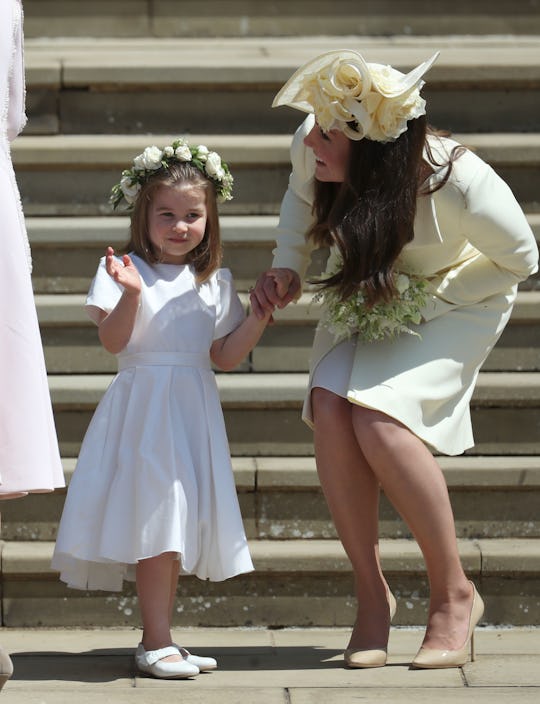 WPA Pool/Getty Images Entertainment/Getty Images
Kate Middleton Could Not Have Looked Better At The Royal Wedding
I'll be the first to admit that I love all things fashion, and that just glancing at Catherine, Duchess of Cambridge's consistently fabulous attire makes me go weak in the knees. She's grown into her role as fashion icon. Love her or hate her, you're probably envious of her perfect hair and extensive wardrobe full of both high and low pieces that seem to come together effortlessly. The wedding of her brother-in-law, Prince Harry, to Meghan Markle was sure to be a fashion event and royal watchers can not get enough of Kate Middleton's postpartum wedding look.
The fashion blogs have been buzzing for weeks over what Kate Middleton would wear to Prince Harry, now the Duke of Sussex, and Meghan Markle, the Duchess of Sussex's, wedding, and she certainly did not disappoint. Making her way through Windsor on the arm of her husband, Prince William, the Duke of Cambridge, Kate stepped out wearing a gorgeous look that she's worn previously to her daughter's christening and to the Queen's birthday. The dress, an original by Alexander McQueen is the palest yellow and flatters her skin and hair flawlessly.
Known for their flair with bias cuts and supreme tailoring, McQueen really soared with this look for the mom of three, which is perhaps why she made the bold choice to wear it three times -- something completely unheard of by royals. Beyond that remarkable decision, can we all agree that it's hard to believe this woman gave birth just weeks ago?
Middleton's naturally tall and slim frame makes her a favorite darling of designers the world over. Her personal stylist, Natasha Archer, is known for pulling the best looks from all around the world, which allows the Duchess to choose a look that's smart without being too showy. For instance, the amazingly cut, flawless, long-sleeved peach dress that Kate wore to her sister Pippa's wedding in 2017 showed just how great a party guest the Duchess is, and just how well she and her stylist collaborate. The dress showed just enough décolletage without showing too much skin, and was cut just a scant few inches above the ankle in a modern, tea-length that made her legs a mile long. (Though, that isn't far off from the truth if you ask me.)
Today's dress is hardly a departure from the classy royal we all know Kate to be, but it's a surprise in that we've seen it before. However, judging by the envious gazes of onlookers, this outfit continues to hit the ball out of the park. The mother of three is always under an extreme amount of scrutiny, and with the wedding happening on the heels of the birth of her youngest, Prince Louis, Kate Middleton's postpartum wedding look was always going to be the talk of the town. But I don't think anyone could've anticipated why it would be that it would be such a topic of conversation.
Dolce and Gabbana, Alexander McQueen, and London fashion it girl, Jenny Packham, are all featured prominently Kate Middleton's fashion history. So it's no surprise that she would choose McQueen, because when it comes to dressing for an occasion, we haven't seen anyone like Kate since her late mother-in-law graced every red carpet and royal event. However, people are shocked at her frugality. She's been known to re-wear expensive and affordable outfits more than once, but three times to three major events? It's a lot to take in.
Her perfect poise, radiant smile, and, to be real for a minute, her mom face in times of crisis, combine to make such an unforgettable woman. There's no doubt that this particular postpartum look will be remembered for a long, long time!