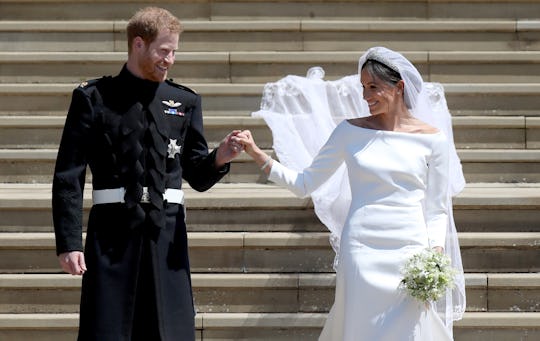 WPA Pool/Getty Images Entertainment/Getty Images
Looks Like You Can Get Your Hands On A Royal Wedding Gift Bag, But It'll Cost You A Pretty Penny
Let's face it: half the reason most of us go to any event is because of the allure of free stuff. But if you can't make it to the event yourself, or get in, it's always nice when your friends give you some of the goodies... or when the items go on sale later on. That's exactly what's happening now as royal wedding gift bags are reportedly being auctioned off on eBay and, unsurprisingly, it'll cost you a pretty penny to get your hands on one.
Held on Saturday, May 19, it didn't take very long for royal wedding gift bags to start popping up on the internet. According to The Sun, members of the public invited to Windsor Castle left the wedding with official royal totes monogrammed with the Duke and Duchess of Sussex's initials. Following a blue-and-gold color scheme, the bags were filled with shortbread, a royal-wedding-themed chocolate coin, magnet, and other trinkets.
Given the nature of people selling anything associated with celebrities on the internet (like this app that lets you buy Kylie and Kendall Jenner's used clothes), the newlyweds probably wouldn't be surprised to know that their wedding totes have come up on eBay. One royal gift bag that went up on the site ended with a bid of $1,369.
To some, it might seem a little, well, tacky to auction off gift totes from somebody's wedding. According to Glamour, one auctioneer included the caveat, "I forgot to mention all the money raised will go to charity." However, a current auction listed on eBay with bids currently upwards of $10,606 makes no mentions of donating the profits. You do have to respect the honesty of people who are openly posting the wedding totes for profit.
Let's face it, though: if you give people something for free, someone will definitely try to sell it if there's nothing stating that they can't. Especially if the item in question is limited.
Aside from the 600 people who made it inside the actual ceremony at St. George's Chapel, The Cut noted that 1,200 members of the public were invited to watch everything go down outside of the chapel. These people, who were allowed on the Windsor Castle grounds, were the ones who received the fancy totes to commemorate the occasion, as The Cut reported.
To some, 1,200 totes might seem like a large number, but remember just how high profile of an event the royal wedding was. According to Deadline, 29.2 million Americans tuned into the live telecast of the royal wedding as it aired on multiple networks. If you divide 29.2 million by 1,200, that means there's enough totes for about one out of every 24,166 Americans. And this isn't taking into account everyone who watched from Britain or across the rest of the world.
Being aware of how limited the totes are makes it easier to see why someone might choose to drop upwards of $5,000 dollars on one. Although, at this point, the cost of buying one tote off eBay could probably fund a roundtrip flight to London multiple times.
For the people who didn't receive a royal invitation, there's not really any harm in them dropping a couple thousand on a gift bag... if that's what you want to do, then so be it.
Still, it's worth noting all the internet buzz around a picture of Meghan Markle as a teenager that resurfaced. In the picture, Markle can be seen sitting in front of Buckingham Palace. Now, 22 years later, she's married to a prince and is a duchess herself. So... it might be worth skipping the wedding tote and heading on over to England yourself.