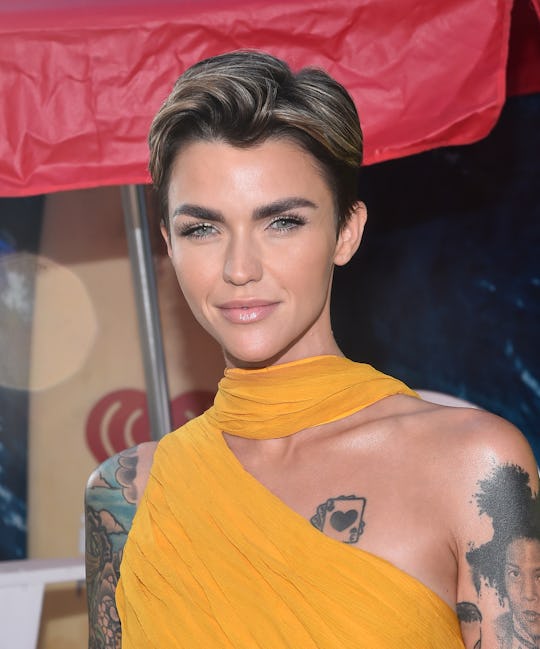 Alberto E. Rodriguez/Getty Images Entertainment/Getty Images
Twitter's Response To Ruby Rose As Batwoman Is Overwhelming
It's a good week for representation in Hollywood. This week, Deadline announced that Ruby Rose was cast as the new Batwoman in The CW's planned series about the superhero. Now that we know a real-life lesbian is playing the canonically lesbian lead character, Twitter is filled with gratitude and hot takes alike. The support for Rose was overwhelming and she, herself, admitted in an Instagram post that she was "an emotional wreck" over the news.
Batwoman was reintroduced to the DC Universe in 2006 as a lesbian of Jewish descent, which was a strict departure from her first appearance in 1956 as Batman's love interest. According to The Guardian, she was introduced "to dispel suggestions of his homosexuality, mainly in response to Senate subcommittee hearings in 1954 investigating the impact of comic books on juvenile delinquency." Thankfully, DC Comics decided to update the character a little over a decade ago to reflect a more diverse readership. The show is still in the script stages, but with Rose signed on to helm, the series is expected to go to pilot and get picked up. It's written by Vampire Diaries alum Caroline Dries, who also identifies as a lesbian, which hopefully means the DC Universe is about to get a whole lot of authentic-feeling representation.
Audiences will get their first taste of Rose as Batwoman this December during The CW's annual DC Universe crossover episode, which includes characters from Arrow, The Flash and Supergirl. (The latter just got its first trans superhero, too, with Nicole Maines' casting as Nia Nal.) Much like that other superhero from Gotham, Batwoman (a.k.a. Kate Kane) battles some dark inner demons while saving the world. And her sexuality offers a natural source of trauma.
In the casting notice, Kate is described as a "highly trained street fighter...armed with a passion for social justice and a flair for speaking her mind." But she also got kicked out of West Point after coming out, and struggles to receive praise from her dad. The character description continues: "While she has her shield up when fighting criminals, she lets herself be vulnerable when dating women." I'm going to go ahead and guess that Kate isn't quite a paragon of emotional stability in her dating life either.
A small faction of Twitter was a little worried about undergoing round two of straight women declaring that they'd "turn gay" for Ruby Rose. During her turn as Piper's sexy Aussie love interest on Orange Is the New Black, the appearance of a suave, masc queer person sent straight women into a tizzy with many wondering online whether Ruby Rose had "turned them gay." Many queer-identifying women found this language dismissive, suggesting that being gay is something you "become" one day. To be clear, that's not how it works. But that was way back in 2015, and the incident spurned some pretty thoughtful dialogue. Personally, I hope that everyone has grown since then and the DC fanbase is more sensitive to marginalized identities going forward. If all goes according to plan, Batwoman will hit The CW for the 2019-2020 TV season.