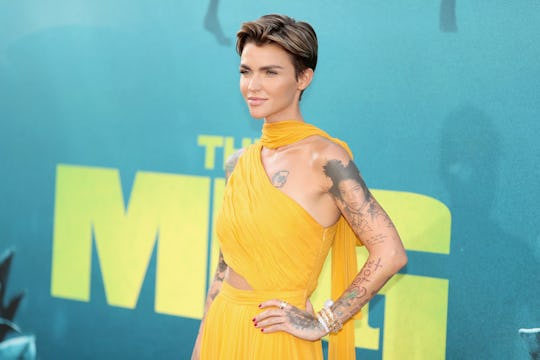 Christopher Polk/Getty Images Entertainment/Getty Images
Ruby Rose Was Forced To Quit Twitter After Batwoman Backlash Exploded
Aussie actress Ruby Rose recently confirmed that she'd been cast as the title character for an upcoming live-action Batwoman TV series, meaning she'll actually be bringing the first openly gay superhero to the small screen. That's a major accomplishment for Rose both professionally and personally, and in a recent Instagram post she wrote that she was "beyond thrilled and honored" to be playing a role she "would have died to have seen on TV when [she] was a young member of the LGBT community." But not everyone was happy about it, and the backlash on social media actually caused Ruby Rose to quit Twitter after being cast as Batwoman, according to Deadline.
There's no question that a Batwoman series is a huge deal: although the character of Kate Kane was originally introduced in the '50s as a love interest for Batman, according to The Guardian, Kane was reintroduced in 2006 "as a lesbian of Jewish descent who found a love interest in former Gotham police detective Renee Montoya," giving her existence in the DC Comics universe a whole new significance, particularly within the LGBTQ community. So while it may not be surprising that people have *feelings* about an openly gay superhero coming to the screen, the reality is that the controversy goes far beyond the usual homophobic gripes.
Unfortunately for Rose, the high-stakes nature of the casting has meant that there have been lots of opinions about whether she was the right LGBTQ actress for the role, and on Sunday, the pressure and criticism led the actress to ultimately remove herself from the conversation entirely. Prior to closing down her Twitter account though, Rose lamented the backlash she'd been seeing, according to Deadline, particularly from those who seemed to be arguing that Kane should be played by an actress who specifically identifies as a lesbian. Rose wrote:
Where on earth did 'Ruby is not a lesbian therefore she can't be [Batwoman]' come from — has to be the funniest most ridiculous thing I've ever read. I came out at 12? And have for the past 5 years had to deal with 'she's too gay' how do y'all flip it like that? I didn't change. I wish we would all support each other and our journeys.
Although Rose literally says in her tweet that she is a lesbian, it doesn't seem like the bulk of the backlash is coming from people who thought she was straight. Instead, many of the tweets criticizing Rose and calling for the role to be re-cast are upset for other reasons — like the fact that Rose has formerly identified herself as queer and gender-fluid; that she's not Jewish; or that Rose's star power seems to lend itself to the fact that she's popular among straight, white women:
And there's even been a push on Twitter for actress Ashley Platz — who auditioned for the role and is actually Jewish and a lesbian — to take on the role (Platz though, has formally voiced her support for Rose.)
Given the huge lack of representation for minorities in TV and film, it's not actually all that surprising that so many people have felt invested in the show's casting decisions, and that not everyone agrees about who was chosen. But it must also be incredibly frustrating and heartbreaking for Rose to have to face such backlash at what would otherwise be such a proud moment.
Either way though, it sounds like Rose probably made a good decision in choosing to tune out the negativity. While there may always be naysayers, it seems all she can do is focus on preparing for her Batwoman debut in The CW's DC Comics crossover event in December, and do the best she can to represent such a significant character. Hopefully, Rose's Batwoman will be only the very beginning of many more roles for LGBTQ actors — especially those who may not already enjoy the same kind of established name recognition as Ruby Rose.