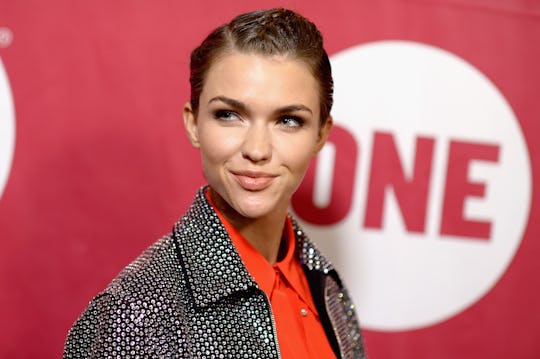 Dave Kotinsky/Getty Images Entertainment
Ruby Rose Responded To Kanye West & It Was Perfect
The Orange is the New Black star and Australian goddess Ruby Rose said what many were thinking last night. Perhaps wrapped up in the excitement of his new album release, Kanye West has been tweeting up a storm of controversy. Well, Ruby Rose responded to Kanye's tweets and his new song about Taylor Swift and it was perfect.
West's newest album debuted last night at Madison Square Garden at an Adidas event. According to BuzzFeed News, West reached out to Taylor Swift prior to the release to see if she would help promote one of the songs on The Life of Pablo, "Famous." The song made reference to Swift, so maybe he thought getting her to tweet about it to her fans was a great idea. Sure, makes sense. What really happened, according to Swift's publicist, was that Swift was very offended by the song's "misogynistic message." Not only did she refuse to play any role in its promotion, she even "cautioned" him not to release it. According to BuzzFeed, her publicist's statement in full said:
Kanye did not call for approval, but to ask Taylor to release his single "Famous" on her Twitter account. She declined and cautioned him about releasing a song with such a strong misogynistic message. Taylor was never made aware of the actual lyric, 'I made that bitch famous.'
The line in the song she is referring to is "I feel like me and Taylor might still have sex, I made that bitch famous." West is famous for controversy, but this has prompted some less-than-flattering press for his new album. Swift's brother even uploaded this video of him throwing his new Yeezy sneakers in the trash, and he was hardly alone in his outrage.
It was not long after that Ruby Rose jumped in to respond to this infraction, among others. A few weeks back West and Wiz Khalifa's longtime feud came to a head on Twitter (mature, right?). The two had a long, angry back-and-forth that gained them both millions of new followers looking to watch the spectacle, but it also brought in Amber Rose, West's ex and the mother of Khalifa's child. That Twitter-storm has since been deleted from public view, but during it, West mocked Amber Rose's past as a stripper, accused her of manipulating him and Khalifa, and, in general, publicly shamed her in a way that only made him look insecure. She's since gotten her revenge with a quick tweet.
This week's controversial tweets from West were the last straw for Ruby Rose, who had clearly been following this fiasco. Just days before his album, release, West, unprompted, tweeted about Bill Cosby, who has been accused of some form of sexual assault by more than 50 women. Again, not a popular stance to take in this fight. Cosby's representatives have not responded to Romper's request for comment, but Cosby has maintained his innocence.
Maybe he was looking to drum up some anger and response before his big album reveal? In that case, it worked. The responses ranged from confusion to incredulity to outright rage.
Ruby Rose's response to this tweet, and his extremely disrespectful behavior lately was perfect. It's official: she's done with him.
And she was not about to let him get off for what he said about her friend, Swift, in his song either.
West's popularity among women was certainly down this week. Rose is fed up. It will be interesting to see if this has a lasting effect on his reputation or if he gets through this controversy like he has so many others — by calling it "art."