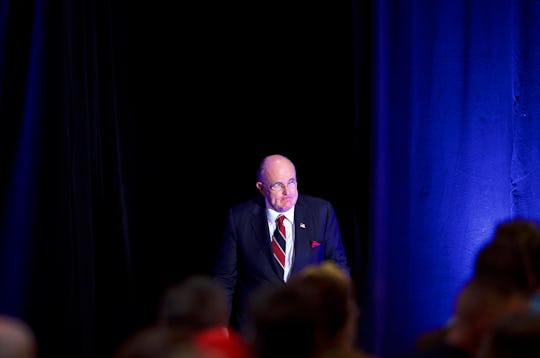 Mark Makela/Getty Images News/Getty Images
Rudy Giuliani's Track Record In Politics Is Important To Know After Trump's Election
In the months leading up to the presidential election, halfhearted supporters of Donald Trump, a man with no political experience whatsoever, insisted that if elected, the reality star would surround himself with qualified staff members. Now, it appears that loyalty might figure strongly into who gets a role in Trump's cabinet, and former Mayor Rudy Giuliani is rumored to be in line for the role of U.S. Attorney General. The question is whether he's the right choice. Does Giuliani's track record in politics hold up?
Based on Giuliani's career history, it certainly seems like something that he'd be interested in. He graduated magna cum laude from New York University Law School in 1968, according to Biography, and went on to work for the U.S. Attorney's Office in New York, was eventually named Associate Deputy Attorney General, and later went into private practice in 1977. In 1981, he was named Associate Attorney General under the Reagan Administration, and in 1983, he was appointed as the U.S. Attorney for the Southern District of New York. He also served as Mayor of New York City from 1994 to 2001, and ran an unsuccessful presidential campaign in 2008. But what did he accomplish during his time in public office?
A U.S. Attorney Who Got Results
Although the practice has been around since at least the 1920s, according to Reuters, Giuliani is widely credited with popularizing the "perp walk," the practice of parading a suspect in front of the media during arrest or trial. Some call that P.R. savvy while others call it attention hungry. But Giuliani did have an extremely successful career as U.S. Attorney, and won a number of high-profile cases, including prosecuting Wall Street's Michael Milken for securities fraud, and bringing down eight prominent mafia bosses in 1986.
A Polarizing Mayor
During Giuliani's time as mayor, he brought on controversial police commissioner William Bratton, and some claim that their utilization of "stop and frisk" and "broken windows" style policing was instrumental in lowering New York's crime rate. Others, however, are quick to point out that the crime rate had already been declining under Giuliani's predecessor, Mayor David Dinkins. A 2000 federal investigation also found evidence of racial profiling within the New York Police Department, a charge that Giuliani vehemently denied.
The Last Months
By the time Giuliani's second term as mayor neared its end, "New Yorkers were exhausted by [him]," said Andrew Kirtzman, a former reporter who followed Giuliani's career, during a CBS News appearance. He had a 39 percent approval rating, according to Real Clear Politics, and was in the middle of a messy divorce. Then, the Sept. 11, 2001 attacks happened, and Giuliani was thrust into the spotlight. He was lauded for his grace under fire and tireless resilience following the attacks, and was named TIME magazine's Person of the Year, was knighted by Queen Elizabeth II, and made one of his trademark appearances on Saturday Night Live during the Season 27 premiere, less than three weeks after the attacks, assuring showrunner Lorne Michaels (and America) that it was OK to laugh again.
No Longer America's Mayor
Sept. 11, tragic as it was, had an undeniably positive effect on Giuliani's public image. But some critics later spoke out against him, claiming that the city was woefully unprepared for the attack. Giuliani has also faced recent criticism during his campaigning for Trump, when he falsely claimed that "Before Obama came along, we didn't have any successful radical Islamic terrorist attack inside the United States," and saying that he didn't believe that then-Senator Hillary Clinton was in the city following the attacks. Some detractors claim that the former mayor uses the memory of Sept. 11 to further his own agenda.
A Moderate, Or A Waffler?
Giuliani started out as a Democrat before switching his party registration to Independent in 1975, then to Republican in 1980, according to On the Issues. The New York Times reported that he had the backing of the Liberal Party during his first mayoral campaign in 1989, and he endorsed Democratic Gov. Mario Cuomo in 1994, much to his own party's chagrin. According to The New Yorker, he's long been known to have progressive views on gun control, gay rights, and undocumented immigrants. While strict adherence to party polices is encouraged in some offices, this could bode well for an Attorney General.
On Race And Religion
When speaking to The New York Times just after the Sept. 11 attacks, Giuliani spoke out against targeting Arabs, saying, "Nobody should attack anybody else. That's what we're dealing with, right now. We are dealing with insanity, with sick hatred." However, this past July, he bragged to NJ.com about surveilling Muslims: "I put undercover agents in mosques for the first time in January 1994 ... And I kept those police officers in those mosques until I left as mayor." He's also a vocal opponent of the Black Lives Matter movement, saying on Face the Nation that it was "inherently racist" and "anti-American." He even spoke out against Beyoncé's Super Bowl performance, saying "she used it as a platform to attack police officers."
Will Giuliani be the Attorney General America deserves, or a travesty? Maybe he's not even considering the job. Time will tell, but until then, it's important to know his history.