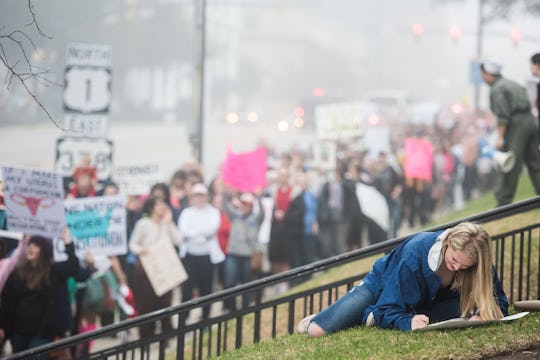 Sean Rayford/Getty Images News/Getty Images
Here Are Some Rules To Keep In Mind When Making Your 2018 Women's March Sign
It's that time of year again: women everywhere are getting ready to give the finger to the patriarchy and demand a more equal, representative government. The Women's March on Washington last year kicked off an amazing year of action in 2017, and the anniversary rally taking place this January promises to be no different. But whether you're heading to Las Vegas for the official rally or attending an anniversary march closer to home, here are a few rules for your Women's March 2018 signs to keep in mind before you start marching.
While the main event that takes place in Las Vegas, Nevada isn't a march, the other anniversary events will be, and you'll definitely want to show up with a banging sign to shout your cause. While Power to the Polls — the anniversary event in Las Vegas — doesn't have specific sign rules for showing up at the rally, you'll probably want to follow last year's general rules when you show up at any anniversary events.
No Poles Or Posts
If you bring a flag, make sure there's no pole attached to it, and if you bring a poster or sign, it shouldn't have a wooden sign post, according to The Guardian. Metal is also a no-go. Essentially, you don't want to have anything on you that could be misconstrued (or used!) as a weapon.
As an alternative, consider using paper towel rolls, holiday wrapping paper rolls, or cardboard to hold your sign up if you don't want to use your two hands (or if you want that maximum sign visibility above the crowd).
Don't Use Anything That Could Also Be Used As A Weapon
Remember that the signs themselves shouldn't be made out of anything that could be used as a weapon, either, which means no wooden signs. Try cardboard, foam, or poster board instead — it should also be less heavy (and thus less tiring) to carry.
Make Sure Your Message Is Peaceful & Powerful
As for what's on those signs? Peacefully protest to your heart's content, but keep any statements that might incite or encourage civil disobedience or violence. Yes, the First Amendment protects free speech, but that protection runs out once you start using that free speech to encourage violence or breaking the law. Not only that, but the Women's March is meant to be a peaceful protest, and keeping everyone safe is a top priority.
Any signs that break those basic rules could be confiscated for the safety of other marchers or the public at large, so play on the safe side and use materials that have been given the thumbs up by organizers.
Aside from that, though, feel free to get creative. Whether you have an artistic flair, a fantastic meme you'd like printed out, or a slogan that'll make everyone think or laugh (or both!), go wild. Here are some of the best signs from last year to help inspire you:
If you're planning on heading to this year's Power to the Polls rally in Las Vegas, make sure you're familiar with the rest of the rules of attendance. You can bring a bag, but clear ones are preferred (to help make safety checks that much quicker and smoother). You'll also want to register ahead of time; the event is free, but organizers are trying to estimate the number of attendees for safety and planning purposes.
If you're already halfway through making your kick*ss sign but haven't found an event to attend yet, find an anniversary Women's March event near you online. Over 250 events are planned, and the marches in New York City and Washington are expected to be huge.
With a little bit of preparation ahead of time, you can make sure you have an awesome, powerful, organizer-approved sign for the Women's March on Jan. 20. Now get to work — and happy marching!
Check out Romper's new video series, Romper's Doula Diaries:
Watch full episodes of Romper's Doula Diaries on Facebook Watch.