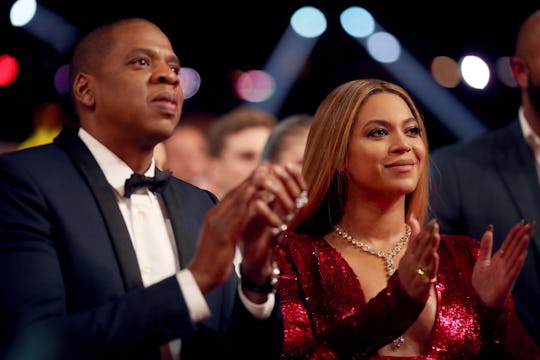 Christopher Polk/Getty Images Entertainment/Getty Images
Rumi & Sir Illuminati Theories Don't Exist Yet
On Friday afternoon, Beyoncé and JAY-Z trademarked the names Rumi and Sir, putting the rumors surrounding the twins names to rest. But still, rumors out there about the twins persist, especially rumors and theories linking the birth of the babies to the Illuminati. So far, the Rumi and Sir illuminati theories are far and few between, but that doesn't mean that their names aren't linked to the Illuminati, yet.
TMZ reported the news after the company run by Beyoncé and JAY-Z filed legal documents to trademark the names Rumi Carter and Sir Carter. This comes on the heels (and might just confirm) the reports that Beyoncé and JAY-Z had a girl and a boy. But this isn't a time to celebrate the news that the names of the twins exist (or unofficial confirmation that they just exist in general). This is a time for speculation as to why they named the twins Rumi and Sir and how those names are specifically linked to the Illuminati. For years, people have had their suspicions that Beyoncé and JAY-Z are in the Illuminati — with everything from their song titles to their hand movements being judged.
In April, the self proclaimed "illuminati official account," @illuminati_min, tweeted a quote by Rumi, the poet born 807 years ago whose words make him the most popular poet in the United States, according to the BBC. "Let yourself be silently drawn by the stronger pull of what you really love. - Rumi," the account tweeted during Beyoncé's pregnancy. It could be possible that Beyoncé, the "queen of the Illuminati," saw this tweet and was inspired to name her child Rumi.
As for the name Sir, which is the polite way of addressing a figure of authority, could very well be linked to the theory that some very important people (ones that you would definitely call sir) are in the Illuminati. Perhaps naming their child Sir was a way for Beyoncé and JAY-Z to guarantee that their child would be a powerful illuminati member for the rest of their life?
These are only just silly theories about their names. But since Beyoncé performed pregnant at the Grammy Awards, people have been linking Rumi and Sir to the Illuminati — and that was before they were even born. Although there are not many theories about Rumi and Sir's names being linked to the Illuminati, it is only a matter of time before someone puts it all together in a creepy YouTube video.