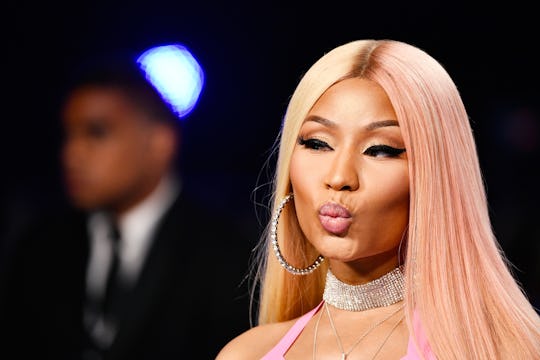 Frazer Harrison/Getty Images Entertainment/Getty Images
Rumors That Nicki Minaj Is Pregnant Are Circulating Online Right Now & It's So Absurd
Now that most of the Kardashian and Jenner pregnancy rumors have been confirmed, the internet is looking for something else to needlessly speculate about. Because of course, right? This week, thanks to an initial report from Media Takeout, rumors that Nicki Minaj is pregnant are flying all over the place, and there's not a whole lot of evidence that they're legit. Romper's request for comment from Minaj's reps regarding the report wasn't immediately returned, but knowing how the hip hop artist is, she'll likely have something to say about it on Twitter or Instagram soon.
But she really shouldn't have to, since the rumors are simply based on some anonymous sources and faulty reporting. Media Takeout reports that the father of this reported baby is rapper Nas, who she has reportedly been dating since last May, according to Complex. And even that's up for debate — they've been spotted out and about together and shared some Instagram pics together, as Billboard reported, but it's not even confirmed that they're hot and heavy like that.
The report is also steeped in sexist stereotypes and speculation. For one, the baby rumors began (this time, at least) all because the Anaconda rapper tweeted, "Have you ever noticed how confused people act when you start treating them EXACTLY how they've been treating you?," which is supposedly meant to be a reference to Nas, whose real name is Nasir Jones, being a jerk. Because what's a good pregnancy rumor without a little drama between a woman and her (rumored) boyfriend?
The media outlet also added that she's been "quieter than usual" on social media, but she's been plugging Lil' Wayne's new mixtape, as Pitchfork reported, which she's featured on, and sharing things at a pretty average pace, as any dedicated follower of hers would notice. On top of all that, there's an even better reason to be a bit suspicious about this report, and all it takes is having just a little bit of knowledge about the hip hop legend.
Media Takeout reported that Kelis, who is the mother of Nas' 8-year-old son Knight Jones, is jealous about not being the rapper's "only" baby's mother, and is apparently "messing" with the custody arrangement. That has to be completely made up or exaggerated, since Kelis, who divorced Nas in 2010 after five years of marriage, is not the only woman Nas has had kids with to begin with.
Nas also has a 23-year-old daughter named Destiny with former girlfriend Carmen Brown. So...maybe fans should slow down on the retweets about there being some "feud" between Kelis and Minaj. Women can date the same men without clawing at each other in the press.
The rumors about any baby drama could have possibly stemmed from reports that Nas and Kelis are heading to court in the coming months to work out a custody agreement for little Knight, according to BET. Maybe the internet has its wires crossed.
This isn't the first time that Minaj has been plagued with pregnancy rumors just because it's hard for the internet to imagine a successful woman being happy and creative without a man on her arm or baby fever.
For some reason, people just can't seem to be able to imagine that a woman who's so open about her sexuality, especially Minaj, might not want kids at all. As things seemed to get more "social media official" between her and Nas this fall, fans began begging them to have kids (why?!). She responded in a way that only Minaj could, tweeting, "Y'all want the album or the baby? Cuz ch- y'all ain't bout to get both."
Minaj split from her boyfriend of two years, Philly-based rapper Meek Mill, in early 2017 and was rumored to be hanging out with Nas just afterwards, according to E! News. (Meek Mill was sentenced to four years in prison this fall for violating probation from a 2007 arrest, according to Pitchfork.) Because of all the changes in her life, she told Ellen DeGeneres in May that she was taking things slow. She told DeGeneres of Nas:
I'm just chillin' right now. I'm celibate. I wanted to go a year without dating any man. I hate men. I might make an exception to the rule for him, because he's so dope.
Whether she made the exception or not is, quite frankly, no one's business. Especially without any decent, verified signs from the rap mogul herself. It doesn't seem like she would be one to hold out on us anyway.
Check out Romper's new video series, Romper's Doula Diaries:
Watch full episodes of Romper's Doula Diaries on Facebook Watch.