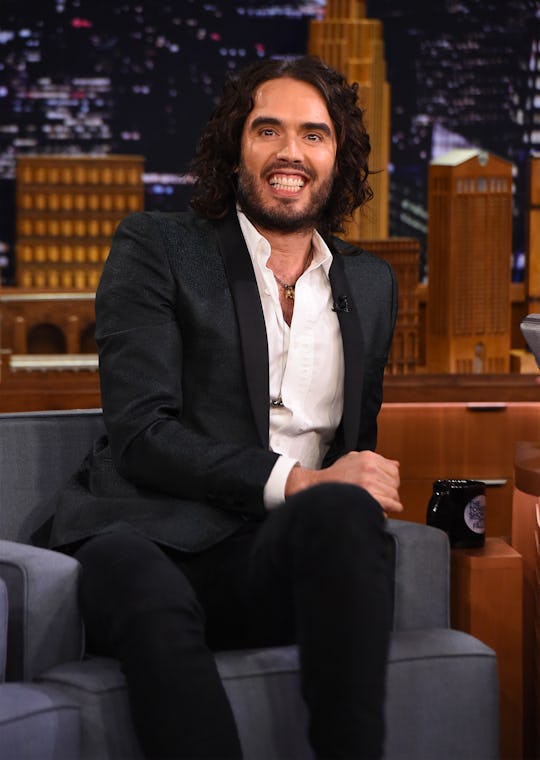 Theo Wargo/NBC/Getty Images Entertainment/Getty Images
Russell Brand Confirms His Girlfriend Is Pregnant & He's Already Doing His Homework
The rumors are true about comedian and actor Russell Brand and his girlfriend Laura Gallacher. While there are been a lot of talk about it, no one has actually confirmed it, until now that is. On Instagram this weekend, Brand confirmed his girlfriend is pregnant — which calls for a celebration... and some definite parenting homework.
The suspected pregnancy was first reported two months ago, back in May, with several gossip mags suggesting that Gallacher was expecting the couple's first child. British tabloid The Sun claimed the rumor after sources close to the couple reportedly confirmed that Gallacher was pregnant. But now, just two short months after the initial reporting, Brand has finally taken to his Instagram account to make his the couple's first public statement about the pregnancy. (Finally.)
While Russell Brand might be a little more well known in the United States, after starring in movies like Get Him To The Greek and Forgetting Sarah Marshall, there are a lot of people who still don't know who Laura Gallacher is. In reality, Gallacher actually comes from a quite famous family. Her older sister, Kristy Gallacher, is a TV presenter in the U.K. and her father, Bernard Gallacher, is a famous golfer. Two months ago, Bernard might have accidentally confirmed the pregnancy to The Daily Mail, reportedly telling the paper that he and his wife were "very happy" after learning the news. But other than that little statement from Gallacher's dad, both Gallacher or Brand's camp kept quiet, declining to comment on the matter.
In an adorable Instagram post over the weekend, Brand finally (and officially) spilled the beans. "Right then. My Mum bought me this. Time to get ready!" Brand captioned the photo on his Instagram account, snapping a photo of himself doing some much needed parenting homework. The book in the photo, The Expectant Dad's Handbook, claims that it's "all you need to know about pregnancy, birth, and beyond." So Brand had probably better read up.
If The Sun's initial reports are true, than Brand might have to get through the book relatively quickly. Back in May, The Sun claimed that Gallacher was five months pregnant. The timing of Brand's announcement would put the mom to be at seven months — meaning the new Brand baby could be here weeks from now.
According to The Sun, the couple is also reportedly engaged — but Brand hasn't yet confirmed that rumor on his Instagram. If the rumor mill is true, the couple shared the news at a small party at their house at the end of June — and chatter only grew further when Laura's sister Kirsty posted a photo of herself and Gallacher to her Instagram with the caption "Congratulations to my gorgeous sister." Whether or not Kirsty was congratulating her on the pregnancy or the rumored engagement is not confirmed.
Brand, who was previously married to Katy Perry, told Howard Stern in 2012 about his desire to be in a relationship and have kids. "I was really into the idea of marriage and having children," Brand said.
Now — with one on the way and a reported engagement — Brand can finally see his idea become a reality.