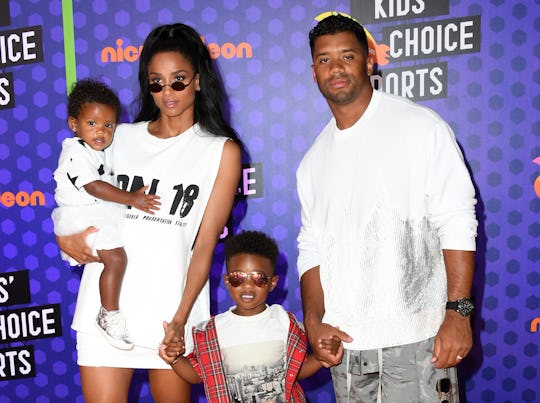 Jon Kopaloff/Getty Images Entertainment/Getty Images
Russell Wilson Bringing His Daughter To Work Is The Cutest Thing You'll See Today
As much as fans try to keep up with their favorite singers, actors, and professional athletes, one side of celebrities that often remains a mystery is who they are as a parent. Sure, celeb-moms like Kristen Bell, Cardi B, and Chrissy Teigen provide kid updates on the regular, but when it comes to dads, the kid posts often aren't there. Enter: Seattle Seahawks quarterback, Russell Wilson. And honestly, Russell Wilson bringing his daughter to work is the cutest thing you'll see all day.
On Tuesday, Oct. 23, Wilson shared a 20-second video clip of himself and his 18-month-old daughter, Sienna, that is bound to make you go, "Awwww!" If you're not familiar with the NFL player's family setup, Wilson shares Sienna with his wife, singer Ciara — who also has a 4-year-old son, Future Zahir, with her ex, rapper Future. The video shows Wilson chilling out at what appears to be an office at his brand management company, West2East Empire, while holding his daughter. "This is what happens when you bring your daughter to work," he says to the camera. "We're just hanging out, having fun. Say, 'Hi!'" the doting father encouraged his toddler. To which she parroted, "Hiii!" He also panned over to someone at a different desk and said, "Say hi, Daniel," to which he also replied, "Hiii!!" LOL. Too precious, right? Twitter seems to think so.
One Twitter user wrote, "You two are too cute," followed by a field of heart-eyed emojis.
Another Twitter user commented, "Love seeing moments like that father daughter bonding. Family time a beautiful thing to see God bless ya'll."
Another person pointed out how much Sienna resembles her daddy. They wrote, "I can't get over how much she looks like him. She is sooooo cute!"
As People reported, Wilson and Ciara were married in July 2016. Because Ciara had a young son from a previous relationship, Wilson got a taste of parenthood before they went on to welcome little Sienna in April 2017. "Dear Sienna Princess Wilson, No matter how big the wave, we will always be your calm in the storm. We Love You. Love, Mommy & Daddy," both Wilson and Ciara posted on social media following their daughter's birth.
Just a few months after becoming a father, Wilson opened up about adding Sienna to the family — and how life had changed so far. "He's such a good brother, and to be able to see Sienna as well, and see how she grows every day and changes every day when you come home ... You've been at work since 5:30 in the morning, you come midday and there's something different. It's a really cool experience," he told media in June 2017, according to SeattlePi.com.
Oh, and for the record, Tuesday wasn't the first time Wilson has brought his daughter along while he's at the West2East Empire office, at which he's the chief executive officer. Back in April, the quarterback/brand management businessman shared a sweet shot of himself holding a bottle-drinking Sienna from the same office. "Father-Daughter Work Day!" he captioned the Instagram photo. "Spending time with my angel SiSi today at my @West2EastEmpire office. My baby girl is the best. ❤️❤️❤️"
Cleary, the Seattle Seahawks quarterback is one busy guy. As if being a professional football player wasn't exhausting enough, he's also a businessman and a father. So it makes sense that Wilson would have his little girl tag along at the office whenever he can. And he can keep on sharing the photo and video evidence all he wants — because Russell Wilson and his little girl are seriously adorable together.