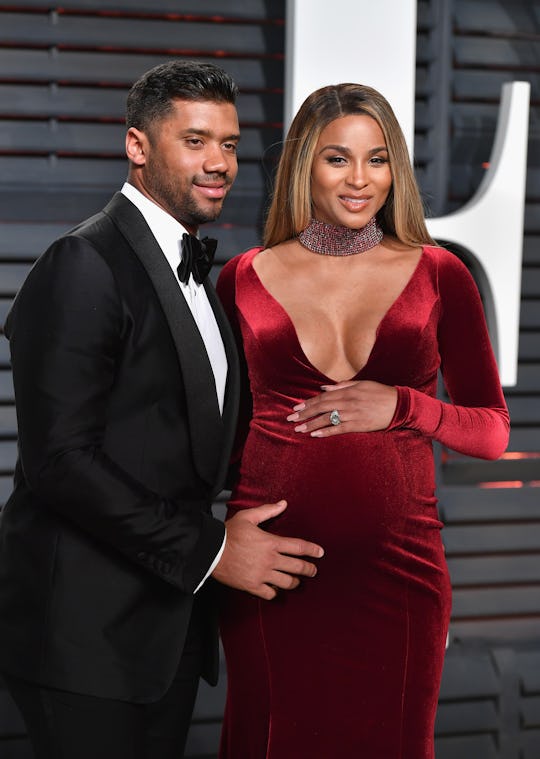 Pascal Le Segretain/Getty Images Entertainment/Getty Images
The Internet Is Upset Over Russell Wilson's Note To Ciara On Mother's Day
As the old saying goes, "no good deed goes unpunished." And that's exactly what happened when Russell Wilson was criticized for his Mother's Day message to his wife, Ciara. On Saturday, the 28-year-old NFL star posted a sweet tribute to the mom of two, but the internet was not happy with his choice of words when Wilson referred to the 31-year-old singer's almost 3-year-old son with rapper Future, Future Zahir Wilburn, and the couple's newborn, Sienna Princess Wilson, as "our kids." And amid all the negative comments, the people writing them seemed to forget how co-parenting works.
"Nothing better than spending time with you," Wilson captioned a photo of the pair at the 2016 Billboard Music Awards. "You are an amazing mom & I'm so grateful I get to spend the rest of my life with you & raising our kids. I love you! #HappyMothersDay Weekend my love."
While Ciara's ex has not commented on the post, some people felt the need to alert of the rapper of Wilson's message and attacked him for considering the toddler as his own child.
"You gotta think how @future thinks," one person commented. "He still has a kid that's not yours and no matter what you have to respect that as a man @dangerusswilson."
"Ur kid not our kids baby future is future child," another person wrote.
"You got one kid Bruh, one!" another wrote. "Don't disrespect future Bruh."
"'Our kids'???????" another said while tagging Future's Instagram handle, whose real name is Nayvadius DeMun Wilburn.
Fortunately, even more positive comments poured in and fully supported Wilson's choice of words.
"Beautiful family! I commend you on loving little Future like your own. It takes a village to raise a child," one person commented.
"Instead of all the negative comments everyone should be glad he loves him as his own," another wrote.
"That's a beautiful note. It's truly a blessing he sees both kids as equals in their home and both are equally loved and taken care of," another person commented. "A real man loves with his heart."
When parents break up, it's usually tough on the little ones. But when one or both parents find a partner who loves and welcomes his or her children as their own, that stress from the separation becomes a lot easier to handle. It's important for children to feel loved from their biological parents as well as from their step-parents.
There are certainly plenty of challenges and boundaries that come with step-parenting and the same goes for co-parenting. But as long as the children's best interests and needs are put first and they are loved, any issues or drama should be set aside. In this case, Wilson seems to be doing just that for his blended family and it's beautiful.