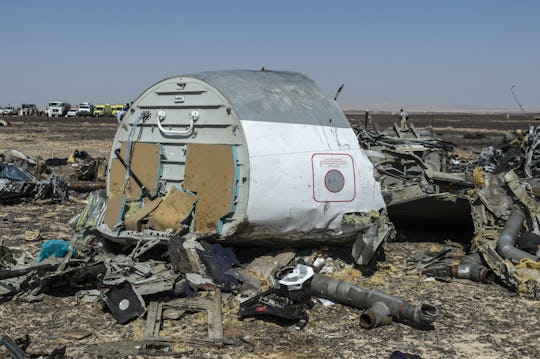 KHALED DESOUKI/Getty Images
Russia Confirms A Bomb Caused The Metrojet A321 Crash, & Is Offering $50 Million For Information Leading To An Arrest
On Tuesday, Russian officials confirmed that a bomb caused the Russian plane crash that happened on October 31 over Egypt. The Associated Press reported that speaking to Russia's Security Council this week, Federal Security Service chief Alexander Bortnikov announced that a homemade bomb was responsible for the crash, calling the incident "a terrorist act." Furthermore, Russian officials vowed to determine who was responsible for planting the homemade explosive, offering a reward of "$50 million U.S. dollars" for information leading to the capture of the attackers.
Just days after the crash, British and American officials said intelligence suggested someone had detonated a bomb on the metrojet, causing it to crash and killing the 224 people on board, but the Russian and Egyptian governments resisted saying the crash was caused by a deliberate explosion, called those conclusions "speculation." At the time, Kremlin officials expressed caution over drawing any immediate conclusions about what had caused the crash, and Egyptian officials told BBC reporters that there was "as yet no evidence or data" to support the idea that the plane was bombed at all.
The Sinai Province, an offshoot of the Islamic State, or ISIS, claimed responsibility for the crash. In a statement, the group said that they had planted an explosive device aboard Metrojet A321 in response to Russian air strikes over Syria. However, the group provided no evidence to support their involvement.
At the security meeting, which was broadcast on national television, Russian President Vladimir Putin vowed that the government would hunt "indefinitely, find out who the individuals were." Putin continued, "We'll look for them everywhere, wherever they are hiding. We'll find them in any corner of the planet and punish them."
Putin announced that the Russian government would offer a $50 million reward for information on the attackers. He also urged "Russian and international communities for cooperation in identifying the terrorists." Asked whether the Russian government believed ISIS was involved in the attack, a Kremlin spokesman said that while the group had "exported terrorism to other countries," Russian officials could not yet say whether ISIS had downed the Russian plane.
According to the New York Times, Egypt has not yet responded to the Russian statement.
Images: KHALED DESOUKI/Getty Images