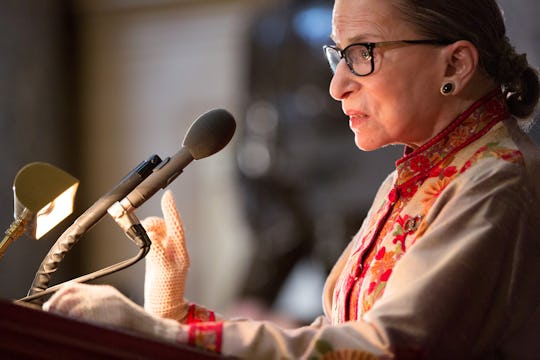 Allison Shelley/Getty Images News/Getty Images
Ruth Bader Ginsburg Says She'll Move To New Zealand If Trump Wins The Presidency
Supreme Court Justice Ruth Bader Ginsberg, also known by the moniker Notorious R.B.G., gave a surprisingly candid interview to the New York Times this week, covering topics ranging from recent decisions made by the Court to taking the Senate to task for not confirming President Obama's appointment of Judge Merrick Garland to the Supreme Court. But it was the presumptive GOP nominee for president, Donald Trump, who was treated to the sickest burn from the octogenarian jurist, who also highlighted the impact a Trump presidency would have on the most vulnerable Americans. Ruth Bader Ginsburg said she'll move to New Zealand if Trump is elected president. But what about the rest of America, the most vulnerable, who can't afford to split the country after the election?
Asked about her thoughts on a potential Trump presidency, Ginsberg didn't mince words.
"I can't imagine what this place would be — I can't imagine what the country would be — with Donald Trump as our president," Ginsburg told the New York Times. "For the country, it could be four years. For the court, it could be — I don't even want to contemplate that," she said in reference to the SCOTUS appointments that will be required of the next president.
She added the thought of a President Trump reminded her of what her late husband would have said if faced with the thought of Trump getting elected to the White House, "Now it's time for us to move to New Zealand."
But buried in that pithy quote is a harsh reality that millions of Americans who can't afford to leave (or even joke about leaving) would face the day Trump took the oath of office. Millions of people would have to live through a president who not only doesn't represent their best interests, but also a president who expressed open hostility toward huge segments of the country, including Hispanics, Muslims, women, black people, Native Americans, and others. So, the bummer for the rest of the country who can't afford to head out of the U.S. on a chartered jet on Day 1 of the Trump presidency is that they are the ones who will be forced to deal with all of the effects of anti-Trump voters not voicing their opposition (or not being loud or passionate enough in it).
Whether it's mocking a disabled journalist, calling Mexican immigrants "rapists," hurling insults at reporters, threatening to kill the innocent families of terrorists, or suggesting women like fellow candidate Carly Fiorina's appearance made her unfit for office, the list of Americans Trump has expressed his scorn for continues to grow longer as the campaign marches on toward the conventions. CNN put together a short list of the groups of Americans Trump has attacked, which also includes Asians, Prisoners of War, and the people of Iowa, who he called "stupid" for giving his GOP rivals higher poll numbers.
Would there be room on Ginsburg's one-way flight to New Zealand for the rest of America too?
While Notorious R.B.G.'s comments make for excellent interview fodder, the notion that a Trump presidency would make this country a less hospitable place to live is real and it should be enough to encourage every American to vote in November's election. Because not every American who has been in the crosshairs of Trump's dangerous rhetoric can afford to pick up and move across the globe to escape if he is elected president.