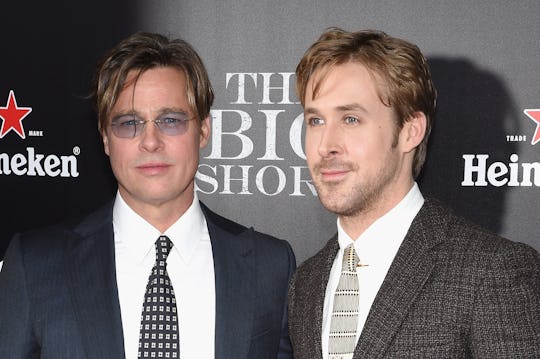 Ryan Gosling & Brad Pitt Team Up At The Golden Globes, & Twitter Is Overwhelmed By The Hotness
Arguably the most exciting moment of the 2016 Golden Globes occurred when Brad Pitt and Ryan Gosling stepped on stage together to introduce their film The Big Short. And when two of the sexiest men in America stand next to each other, the world freaks out over their collective handsomeness.
As hearts fluttered and ovaries melted across the country, users took to Twitter to express their joy at seeing these two hunks together. They tweeted about the beauty overload, and the overwhelming consensus among these users was that this moment was going to be the highlight of the Golden Globes, if not the highlight of 2016.
It's hard to imagine a better combination to ogle over up there than Gosling and Pitt. And not only was it Gosling and Pitt, it was Gosling and Pitt in tuxedos. The only thing that could have been better was if the tuxedos happened to fall off and we saw the two in their skivvies. Be still, my heart.
Here're some of the reactions taking over the Twitt-o-sphere:
Such a swoon-worthy moment. Looks like you'll have to see The Big Short if you want more.
Images: Larry Busacca/Getty Images