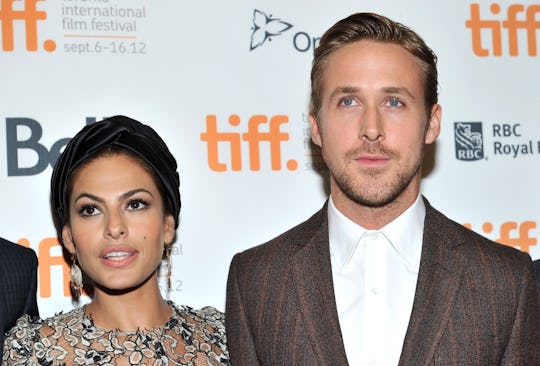 Sonia Recchia/Getty Images Entertainment/Getty Images
Ryan Gosling's Description Of Watching TV With His Daughters Is Hilariously Relatable
Oftentimes, it seems as if kids have more control over their parents than parents have over their kids — from what music you listen to in the car to what the family watches on TV, it seems as if kids have a say in everything in their parents lives. Ryan Gosling, father to two young girls with his partner, Eva Mendes, especially knows this to be true. In a new interview, Ryan Gosling opened up about watching TV with his kids, and parents will get exactly what he is talking about.
There have been a lot of very exciting things on TV in the last few weeks, like Prince Harry and Meghan Markle's royal wedding and the NBA finals between the Golden State Warriors and Cleveland Cavaliers. But, from the sound of it, Goslings daughters — 3-year-old Esmerelda and 2-year-old Amada — wouldn't let him have even temporary control of the remote, according to Us Weekly. During an appearance on Jimmy Kimmel Live! on Friday, Gosling told Kimmel that he would have loved to catch any of the games during the NBA finals over the past two weeks, but there are more important programs to watch in the Gosling-Mendes household.
"Well, I knew I was going to be on the show so I was excited to watch the games," Gosling said, according to Us Weekly. "But I have a 2-year-old and a 3-and-a-half-year-old, so, let's be honest, I'm not watching anything that doesn't have a talking tiger in it."
Isn't that the truth? While any parent would love to have a moment to themselves to relax and watch something like a basketball game, there are more important things to tend to — like entertaining and taking care of their kids. So, it is completely understandable as to why Gosling might put his TV programs on the back burner in favor of the shows his kids want to see.
In the interview, Gosling could have been talking about any animated show that involves a talking tiger, it is likely he was talking about Daniel Tiger's Neighborhood, according to Entertainment Tonight. Daniel Tiger's Neighborhood is a kids TV show, which is an animated take on Mr. Roger's Neighborhood, a classic TV program that other generations of kids grew up with, according to Children and Media Man.
Gosling and Mendes aren't wrong for letting their kids watch the show — according to a 2016 study published in the Journal of Children and Media, research found that kids who watched the program over a two-week period "exhibited higher levels of empathy, self-efficacy, and emotion recognition." So maybe it's a good thing that "talking tigers" are on more in the Gosling-Mendes household than basketball games.
Although this update about Gosling and Mendes' kids was a small one, it was much welcomed — especially since Gosling and Mendes are notoriously private when it comes to their children, according to Harper's Bazaar. But, there are times (like in this interview on Friday) when Mendes and Gosling do open up about their daughters, which is awesome for fans dying to know what Gosling is like as a dad of two.
From the sound of it, Gosling and Mendes are doing just fine as parents. Last year, Gosling only had the sweetest things to say about being a father to two girls, according to Entertainment Tonight. "All the cliché's are true," Gosling said. "It's a dream. They're angels and they have heaven eyes." Awwww. And in an interview with People Chica in February, Mendes (who is Cuban, according to Glamour), revealed that their daughters are learning how to speak Spanish in their household. Mendes said, according to Glamour:
Esmeralda mostly speaks Spanglish right now. It's really cute. She's definitely bilingual, and it's really important for us to make sure that she's not only familiar with the language, but also with the culture.
Based on this rare update about their kids, Gosling and Mendes are doing just fine as parents — even if their TVs are dominated by their daughter's favorite shows.