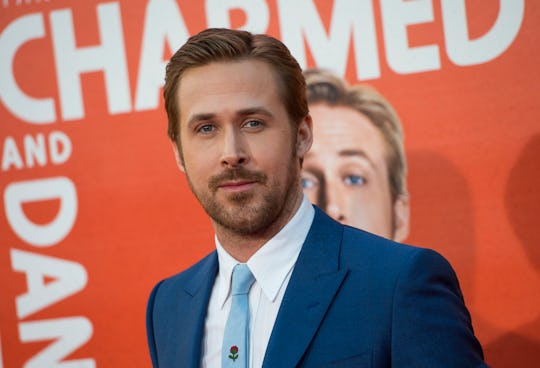 VALERIE MACON/AFP/Getty Images
Ryan Gosling Teases The World With A Photo Of His Newborn Daughter
Ryan Gosling and Eva Mendes recently welcomed their second daughter on April 29, Amada Lee, after successfully keeping the pregnancy a secret from tabloids and paparazzi. The audience at The Ellen DeGeneres Show on Friday thought they were in for quite a treat when the heartthrob actor teased the world with a photo of his newborn daughter. Gosling told the audience that he had brought a photo of his newborn daughter to show everyone and you could hear the excitement rumbling in the audience. Instead, viewers got a good laugh after the hunky dad introduced a photo to everyone only to reveal an image of Degeneres' head photoshopped onto a baby's body. Hasn't he toyed with our hearts enough with a little thing called The Notebook?
The silly photo may have disappointed the audience a bit, but the Nice Guys star surely lightened the mood and made everyone smitten with him once again after he shared an adorable story about his visits to the park with his eldest daughter, 19-month-old Esmeralda, who he cutely calls "Ez" or "Ezzie" for short. Gosling tells the audience a hilarious story of his dreams of being a graffiti artist in his younger days and how he has been able to live that dream, only now through his daughter's sidewalk chalk adventures.
"We go to the park. Play with chalk. It's funny because when I was a younger man, I had a fantasy of getting into the graffiti world for a minute, and I was living downtown, and I heard that if you tag over someone else's tag, that's how you start a battle," he explained to the audience.
"So I did this for a few months and no one ever bothered to battle with me because I guess I was so bad at it…so I was like, ok I'll just hang up my spray cans and that'll be that. And now, since I take my little girl to the park, we always write her name in chalk, and some kid has been erasing her name and writing their name over it. So finally, I'm in a proper tagging battle."
The very famous couple has been known for keeping their personal lives private, keeping their first daughter out of spotlight since she was born. Mendes managed to keep an extremely low profile throughout both pregnancies — Degeneres' charm still couldn't get her to dish some details in an appearance in 2014.
While it's a bummer for fans, their reasoning for wanting privacy for their children makes complete sense. In Mendes' first interview after giving birth to Esmeralda with Violet Grey, she explained her desire to keep her daughter out of the spotlight:
Ryan and I decided early on to give her as much privacy as we could. And my pregnancy was the first opportunity to give her that. Whether we like it or not, privacy is going to be very difficult for Esmeralda. I think it's unfair, but that's our reality.
Even though the couple has chosen not to release any photos of their children, the adorable stories of parenthood they choose share with public are very relatable. Like when Gosling teaches his toddler the good values of a tagging war at the playground.