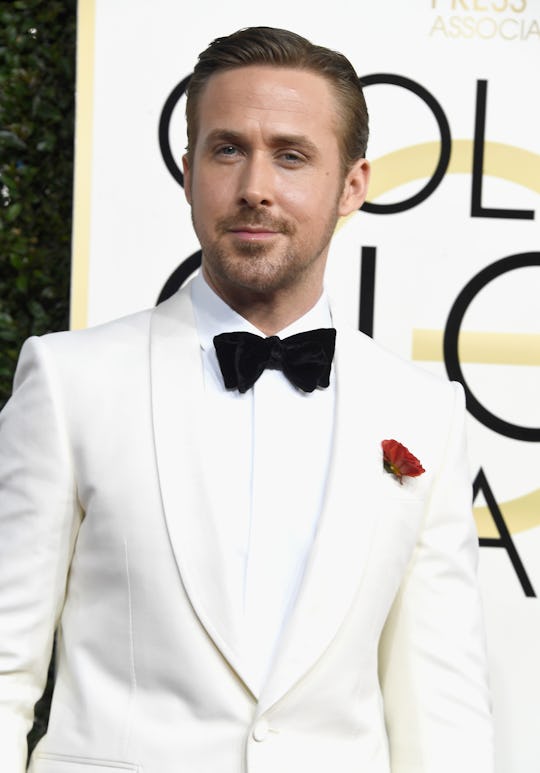 Frazer Harrison/Getty Images Entertainment/Getty Images
Ryan Gosling: Award Winner, Excellent Husband
Credit where credit is due! While accepting his award for Best Actor in a Motion Picture, Comedy or Musical for La La Land, Ryan Gosling thanked Eva Mendes in his Golden Globes speech for making his performance possible — and the world let out a collective "aww."
Although Gosling and Mendes are typically private about their relationship, he made a point of recognizing her for the sacrifices she makes behind the scenes with their family:
You don't get to be up here without standing on the shoulders of a mountain of people. There's just no time to thank everyone. I would just like to try and thank one person properly, because while I was singing and dancing and playing piano and having one of the best experiences I've ever had on a film, my lady was raising our daughter, pregnant with our second, and trying to help her brother fight his battle with cancer.
If she hadn't taken all of that on so that I could have this experience, it would surely be someone else up here other than me today. Sweetheart, thank you. To my daughters, Amada and Esmeralda, I love you. And, if I may, I would like to dedicate this to the memory of her brother, Juan Carlos Méndez.
Cue the tears for people all around the world...
Really, Gosling was quite chatty about his personal life with Mendes before the show. After telling Entertainment Tonight's Nancy O'Dell that Mendes was at home with their girls, he spoke about just what a happy home it is.
"All the clichés are true. It's a dream. They're angels, and they have heaven eyes," he said. In fact, he said not even sitting beside Justin Timberlake at the Golden Globes could compare to an average night at home. He joked, "It'll be lovely to see him, but it's certainly no comparison. He'll understand."
Unfortunately, as Gosling mentioned, there has been a recent tragedy in the family: Mendes' older brother passed away in April 2016 at the age of 53, little more than one year after he was diagnosed with throat cancer.
After that dark spot in the year, newlyweds Mendes and Gosling found other reasons to celebrate — namely with their secret wedding and the birth of their second daughter. Now, with Gosling's Golden Globes win starting out 2017, it seems things are only getting better for the deserving family.