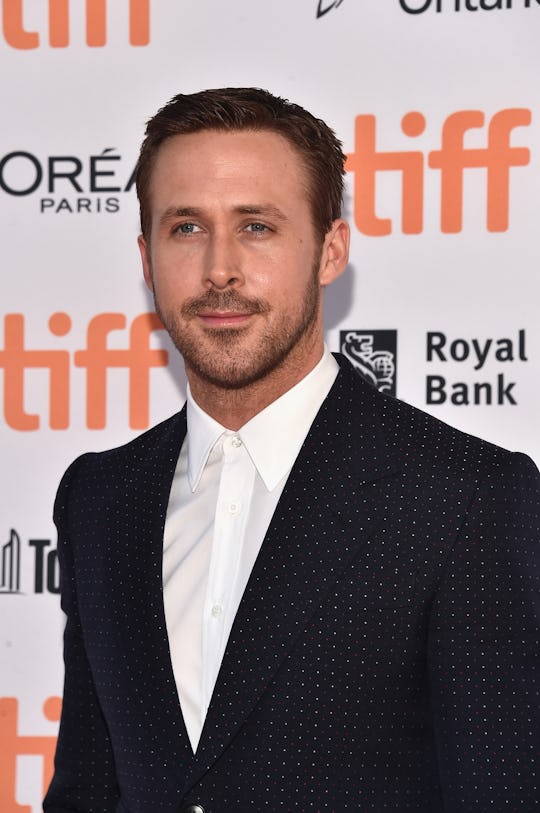 Alberto E. Rodriguez/Getty Images Entertainment/Getty Images
Ryan Gosling's Comments About Eva Mendes & His Daughters Are Total Grown Ass Man Goals
Is it just me, or does something magical happen every time Ryan Gosling speaks? The new father-of-two opened up once again about his family life at the 2016 Toronto International Film Festival premiere of his new movie musical La La Land Monday, and, as usual, Ryan Gosling's comments about Eva Mendes and his daughters were total grown ass man goals. According to Us Weekly, though the actor was solo in Toronto, his sweeter-than-words family was clearly on his mind, as he told reporters that they were "doing amazing," and gushed, "I'm a lucky man, they really make me better." And that's not all: Gosling also told Entertainment Tonight, that his girls were "angels," and that fatherhood is "the happiest time in my life."
Although Gosling and Mendes are guarded about keeping their home life private, hearing him speak so dreamily about their family is kind of the best. Not just because it's easy to imagine that they're the cutest family of life, but also because, well, Gosling has long been so widely crushed upon by people everywhere that hearing him say all the dreamiest things about fatherhood that Noah Calhoun from The Notebook would probably also say if he and Allie had had children together in the movie is almost too much to bear. Don't get me wrong, I love my husband, but until he tells someone that he's a lucky man, and that we really make him better, he'll inevitably have to take a backseat to Ryan Gosling in the "swoony dad" category (kidding, sort of).
Of course, this isn't the first time that Gosling has professed his love publicly for his family in the most perfect of ways. Back in 2015, ahead of first-born Esmeralda's first Christmas, Gosling spoke about his relationship with Mendes to Hello!, saying, "I know that I'm with the person I'm supposed to be with." And when asked what it is that he looks for in a woman, he answered "that she's Eva Mendes. There's nothing else I'm looking for."
Gosling has also spoken previously about his thoughts about those incredible "Hey Girl," memes, where Gosling is poised as the ultimate man-feminist. Although he told The Daily Telegraph last year that he really didn't have anything to do with the "Hey Girl" phenomenon, he did say he "grew up with strong women and the amount of them grows exponentially as time goes on," so he also tends to choose film roles involving strong female characters. And now that he's a father? Well, that's made feminism even more of a priority. Gosling told The Daily Telegraph, "I didn't make those [memes], you know? It's not by design. But I do have a little girl now and it's important to me."
Mendes has also opened up on occasion about her experience as a mother, and it's clear that she feels the same way about raising their girls as Gosling does. The actress told Today in 2015 that becoming a mother changed her, and that Esmeralda had become "her moral compass," and the reason why she strives to be a good role model:
If I'm [thinking],"'oh, what should I wear?" or "should I do this project?" I think about my daughter — all I have to do is think about her face — and then I know the answer immediately... It's just beautiful to be an example for her.
More recently, Mendes spoke to Latina magazine about the special way their youngest daughter, Amada Lee, shares a family name, and how it reflects the tight-knit family they are a part of:
My grandmother's name is Amada, and Esmeralda Amada is the name of our oldest. We had a few names picked out for our new baby, and when she was born, we didn't feel like those names were her. We came up with a few more, even that morning, and tried them out. We were like, "What about Viviana?" But we just kept going back to Amada... We thought how beautiful to go with what made us emotional and with what felt like her. When we looked at her, we thought, "Aww, Amadita."
Let's be honest, as much as it's kind of painful to admit, Mendes and Gosling seem pretty perfectly-matched. They both seem super down-to-Earth, and incredibly devoted to their children and family, and it's hard to imagine anything better. And as for Gosling, well, I doubt anyone will be running out of swoony meme inspiration anytime soon.