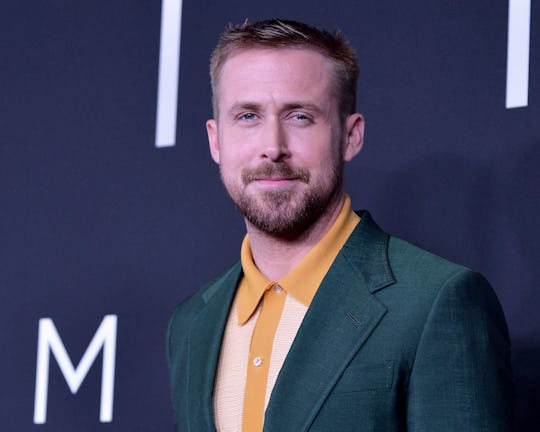 Shannon Finney/Getty Images Entertainment/Getty Images
Ryan Gosling's Kids Have The Cutest Theory About What He Does For A Living
Ryan Gosling may be the internet's collective meme-boyfriend, but as much as he may set all our "Hey Girl" hearts aflutter, the reality is that he's actually a fiercely private family man who is raising two young daughters with his long-time partner, Eva Mendes. Gosling and Mendes don't often reveal a ton about their home life, but while making the media rounds for his new film, The First Man, he couldn't help but open up about fatherhood. One adorably funny detail? Thanks to the role he played in his latest project, Ryan Gosling's daughters think he's an astronaut who works on the moon. And the best part is that Gosling appears to be rolling with it.
In all fairness, it does seem like it would be pretty complicated to explain to two young children that their mom and dad happen to be famous celebrities, so Gosling revealed that, instead, he just let his daughters, 4-year-old Esmeralda, and 2-year-old Amada, draw their own conclusions. In an interview with Jimmy Kimmel Wednesday, Gosling shared that his daughters came to set one day while he was working on the Neil Armstrong biopic, according to Hello!, and it's definitely easy to see how they got confused. He explained,
They came [to set] on this day where I was shooting a launch scene, so I was in the spacesuit and pretending to launch. I think they think I'm an astronaut now ... My oldest said the other day — she pointed to the moon and said, 'That's where you work, right?'
Gosling didn't actually elaborate on whether or not he's since explained the truth to his daughter, but given that even being a famous actor is still not *quite* as cool as being an actual astronaut who has gone to the moon, Kimmel said he was totally here for the idea of letting her believe it. The late-night host joked, "the answer is, 'absolutely, yes, of course,' right? To me, it's yes. Always lie to your children. That's always the way to go."
The actor definitely doesn't seem to be exaggerating about his girls' sweet — yet very incorrect — assumption though. In September, Mendes spoke to Entertainment Tonight as she launched her new collection for New York & Company, and she, too, admitted that she's not quite ready to burst their bubbles. When asked what the girls thought of seeing Gosling in space gear, Mendes said, "They loved it, and they now think Papi's an astronaut ... We haven't corrected them yet."
It sounds like Esmeralda and Amada weren't the only ones who felt that Gosling made a pretty convincing astronaut though. According to The Los Angeles Times, Gosling spent time with Armstrong's two sons, Mark and Rick Armstrong, ahead of filming in order to prepare for the role, and in doing so, he ultimately won their seal of approval. Mark and Rick said that after having dinner with the actor, they could "see that effort was going into this — that he was taking [the role] seriously," and were impressed that Gosling "was trying to figure out everything he could" about their dad. But it was more than just a simple courtesy to Armstrong's family: Gosling told The Times, "If I didn't feel their support, I wouldn't have done the film."
Space travel aside though, it sounds like Gosling and Mendes work hard to keep their daughters' world as normal and down-to-earth as possible. And as a mom, Mendes told Entertainment Tonight that part of that includes keeping her work very separate from her home life. She said,
I'm just mom the them, and I love it that way. They never see me get ready for anything. It's very important for me for them to see me as just mom ... When I go out with them, I really don't put an emphasis on how I look. They're just so little I want them to feel like ... I'm just mama.
I can't exactly say that I blame Gosling and Mendes for letting the girls continue to think that their dad is an astronaut — especially since that's pretty much every young child's dream. But something tells me that when the day comes when they actually realize what their parents *really* do, they probably won't be too disappointed.