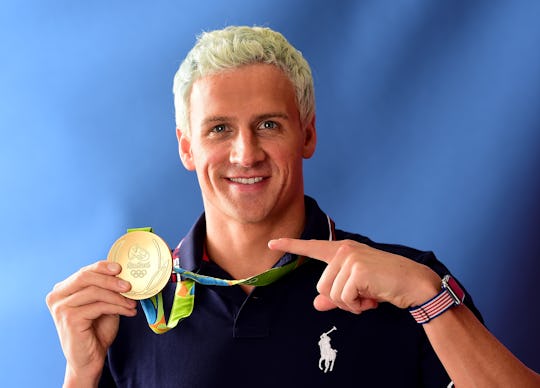 Harry How/Getty Images Sport/Getty Images
Ryan Lochte Has Been Suspended From Swimming For 10 Months
2016 has been an interesting year for Ryan Lochte, filled with both highs and lows. At the 2016 Rio Olympics, Lochte was able to win an Olympic gold medal but also faced scrutiny after being accused of filing a false police report after an alleged robbery — which he had not been punished for, until now. Now, USA Today reports that Ryan Lochte has allegedly been suspended from swimming for 10 months, capping a contentious year for the athlete.
Sources close to the situation told USA Today that Lochte would be suspended from swimming for 10 months as a result of the events that took place in Rio once the Olympic swimming competition had ended. The punishment was reportedly "handed down by the International Olympic Committee, the United States Olympic Committee, and USA Swimming." According to USA Today, TMZ first reported the suspension earlier on Wednesday. Lochte's representatives declined to respond to a request for comment.
This reported suspension means that allegedly, Lochte will not be able to compete in the 2017 Swimming World Championship meet next July — as well as any other swimming competition within the next 10 months. But it appears that Lochte will be busy with a different kind of competition — a dancing competition — as the Olympic medalist is set to compete as a contestant on Dancing with the Stars. The show premieres this upcoming Monday, Sept. 12, according to USA Today.
Lochte's suspension pertains to his reportedly fabricated story about a robbery in Rio after a night out with fellow US Swimming teammates — James Feigen, Jack Conger, and Gunnar Bentz. According to USA Today, Lochte had reportedly embellished several details about the night, giving one version about what happened — while Rio authorities and the other swimmers stated otherwise. This led to the swimmers facing public scrutiny and Rio authorities alleging that Lochte had filed a false police report. According to USA Today, Lochte's suspension from swimming will be longer than the other swimmers involved in the incident. Lochte has not been charged in Rio for filing a false police report.
Shortly after coming home to the United States, Lochte took to NBC, where he apologized to everyone about his "immature behavior" that caused the scandal. "I over-exaggerated that story and if I had never done that we wouldn't be in this mess," Lochte told Matt Lauer during the interview. "None of this would have happened." According to CNN, the International Olympic Committee had reportedly set up a "disciplinary commission" to investigate Lochte and the three other swimmers involved in the incident — and determine whether or not the swimmers would face any punishment.
People reported on Aug. 21 that USOC CEO Scott Blackmun said the four swimmers would face further disciplinary actions. "They let down Americans. People are going to remember this incident, but that doesn't define these games," Blackmun said. There had not been any reported punishment until today.
Earlier on Wednesday, during an appearance on Good Morning America, Lochte told People Magazine that he had hoped to put his antics in Rio behind him. "I'm excited for, not only myself, but for everyone else to forget about what had happened and move forward. I think that's what we're gonna do is just move forward and show off my dancing skills."
Lochte's reported suspension will certainly help people move forward, clearing the air on what the consequences would be for Lochte's actions in Rio.