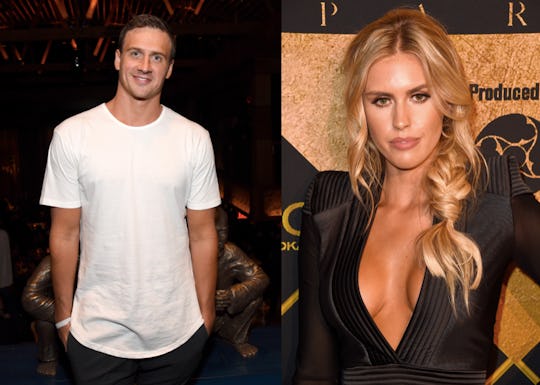 Michael Kovac/Getty Images Entertainment/Getty Images, Frazer Harrison/Getty Images Entertainment/Getty Images
Ryan Lochte Reportedly Married Girlfriend Kayla Rae Reid In A Very Low-Key Ceremony
Surprise, sports fans. Gold medalist Ryan Lochte reportedly got married on Tuesday, following reports that he and his fiancee, Kayla Rae Reid, picked up their marriage license paperwork together last week in Gainesville, Florida. This was after rumors flew in the media that he was likely going to get hitched very soon.
Sources "close to" the Olympic athlete reportedly told TMZ last week that Lochte's marriage was "imminent," but just how soon it was going to happen, no one knew for sure. But it sounds like he and Reid wasted no time at all.
Lochte is a part of "Team USA" in the Olympics, and he won medals in the 2004, 2008, 2012, and 2016 Olympics, according to the Team USA website. But he's had a lot going on lately in his personal life as well. For example, back in June 2017, he and Reid welcomed a son, Caiden Zane. At the time, he said of his son's birth, according to Us Weekly:
As soon as I saw the head pop out, I immediately bawled my eyes out. We're on cloud nine. It's a dream come true.
Reid felt the same way, which is of course not a surprise from a new mom. She told the outlet:
I'm still in shock. I can't believe we made a baby!
Lochte and Reid had a courthouse wedding Tuesday in Gainesville, Florida and Ryan's dad, Steven, was a witness to the ceremony, according to TMZ. As aforementioned, they had recently picked up a marriage license which was good for 60 days, but no one was quite sure when the couple would actually decide to tie the knot.
A courthouse wedding might not be everyone's cup of tea, but I guess a low-key event is what the Olympian and former model must have wanted. And of course, we can't know whether they might have a bigger ceremony at some other point, like other couples sometimes do.
Lochte and Reid got engaged in Oct. 2016, according to People. At the time, he revealed the news on Instagram, underneath an adorable photo of the couple. Lochte apparently "surprised his bride to be with a private helicopter tour of Los Angeles which culminated with a sunset proposal overlooking the Pacific Ocean" when they got engaged, People reported.
Lochte captioned the photo he posted on Instagram very simply, and only wrote, "Memories forever!!! #thelochtes #LA." And Reid responded with a photo of the two kissing on her own Instagram account. Reid's caption said, "Speechless. Absolutely beautiful. So in love with YOU. ❤️"
Reid clearly flashed the ring in both of the shots on the social media platform, and between that and Lochte's #thelochtes hashtag, even though neither caption said "we are engaged," the message was clear.
Nowadays, both Reid and Lochte share a lot of photos of their super cute little boy on the same Instagram pages where they shared their engagement news. When Caiden was born, Lochte already had some goals for his son, although he did say he didn't have to take up swimming like his old man if he didn't want to. Lochte told Us Weekly:
I want him to be very active, but I want him to choose what he wants to do. Whatever he does, I want him to go all in. I don't want him to half-ass anything.
And based on the photos Lochte and Reid share with their followers, Caiden does seem to be a healthy, happy, and active baby boy.
In Jan. 2017, Lochte's focus understandably seemed to be more on his son's upcoming birth than on his future wedding. But he did say he wanted to be actively involved in planning the affair. He told CBS News:
They always say like the wedding's for the woman but you know, for me, I want to be a part of it. I want to help pick out the cake, pick out the flowers, settings, everything, so I want to be a big part of it. Our biggest focus is bringing this child into this world. We're going to keep our focus on that and afterward we'll set a date and time on getting married, but I think we're looking at October.
So the couple ended up tying the knot a little later than Lochte thought they would, but thanks to their courthouse ceremony, everything is now official and he and Reid are (hopefully very happy) newlyweds as of Tuesday.
Cheers to the happy couple, and to Caiden too, of course. Think we'll get to see any sweet photos of the little guy looking on as his parents got married? I guess we'll have to keep checking their Instagram accounts just in case.
Check out Romper's new video series, Romper's Doula Diaries:
Watch full episodes of Romper's Doula Diaries on Facebook Watch.