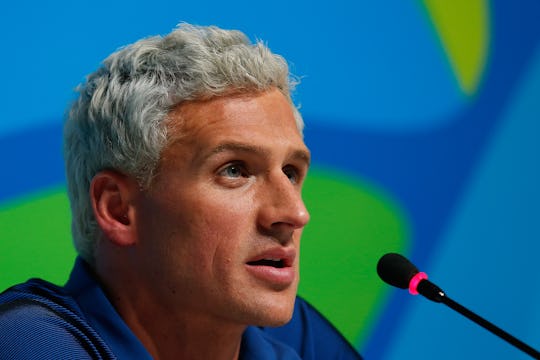 Matt Hazlett/Getty Images Sport/Getty Images
Ryan Lochte & James Feigen Indicted In Rio, Authorities Charge Them With False Reporting
The robbery scandal involving four Olympic American swimmers has just gotten a bit messier. On Thursday, authorities in Rio de Janeiro indicted Ryan Lochte and James Feigen on charges of false reporting of a crime. The formal charge follows the swimmers' original statements, in which the athletes claimed they were held up at gunpoint by robbers dressed as police officers. In reality, Brazilian authorities claimed that the swimmers had allegedly concocted the story to cover up an act of vandalism at a gas station near the Olympic village.
"The surveillance tapes show that there was no violence against the athletes at the gas station," Civil Police chief Fernando Veloso said at a press conference on Thursday, according to CNN. "Their claim that they are a victim of an assault or robbery or any kind of violence is not true." Adding that the athletes — Lochte, Feigen, Jack Conger, and Gunnar Bentz — should "provide apologies to the city of Rio."
While the investigation is ongoing and may have involved all four swimmers, Brazilian authorities believe the main culprit of the night was Lochte. Veloso said at the press conference that the 32-year-old Olympic gold medalist "got into an angry, drunken confrontation with security guards" after allegedly breaking a bathroom door at the gas station.
Brazilian police said, according to CNN, that a firearm was in fact pointed at Lochte by one of the security guards in an attempt to control one of the athletes, but is not being treated an excessive use of force. Lochte initially said in a statement that the gun had been put to his head by one of the robbers.
Veloso later said in the press conference that one of the swimmers who were questioned by police, Bentz or Conger, confirmed that there wasn't a robbery and altercation ensued following their vandalism.
As a resolution, the athletes paid 100 Brazilian reals and a $20 USD to pay for damages. It's not likely that Lochte, who has already returned to the United States, and Feigen will face any jail time — the owner of the gas station reportedly has decided not to press charges because the athletes paid for the damages and a potential charge of false communication of a crime, Veloso said at the press conference, will not lead to their arrest.
The conflicting accounts have led to increasing scrutiny of what actually happened that night and it's likely that this scandal heard worldwide isn't going to go away until the truth is revealed.