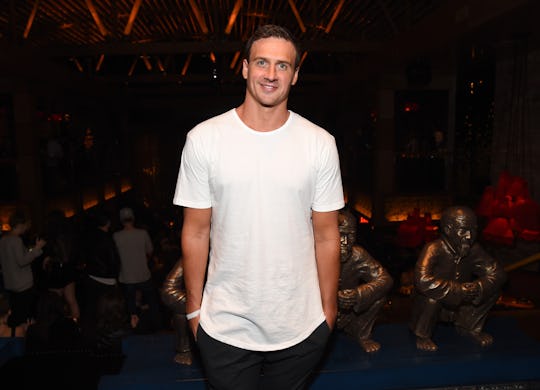 Michael Kovac/Getty Images Entertainment/Getty Images
Ryan Lochte Shares The First Photo Of His Newborn Son
This time last year, Olympic swimmer Ryan Lochte was just a simple guy preparing for the 2016 Summer Olympics in Brazil. Now, one year later, Lochte is a proud father to son Caiden Zane Lochte with fiancée Kayla Rae Reid. Last Thursday, Reid gave birth to Caiden Zane and less one week later, Lochte shared the first photo of his newborn son — and the little one is, of course, perfect.
I mean, how could their son not be perfect when he has a model for a mother and a father who is an Olympic gold medalist? Yes, Caiden might have lucked out when it comes to his parents, but Lochte and Reid seem equally as #blessed to be parents to their new son. Since the little one's arrival, Lochte has not stopped tweeting about his son's birth being a miracle, and how excited he is to be a father. This new family photo, shared to Lochte's Instagram perfectly captures that elation.
"Now this is what it's all about...family!!!" Lochte captioned the photo. Although this photo was the first photo of Caiden that Lochte shared to his Instagram account, it wasn't the first photo of Caiden on the internet.
Just one hour before her fiancée, Reid shared an adorable photo of Caiden (look at that sweet little smirk!) to her Instagram account with her full birth story in the photo's caption. "After almost 26 hours of an unfortunate induced labor the greatest joy entered our lives," Reid wrote. "I immediately placed him on my chest, he looked at me and just gazed. I burst into tears and I will cherish that unforgettable moment for the rest of my life."
Reid continued in the photo's caption, singing the praises of her fiancé as a father:
Ryan stayed by [my] side and encouraged me along the way. To see the look on his face when he saw Caiden was adorable and priceless, it was such an emotional moment for the both of us. I'm in awe every day and I love watching our little man grow daily. His face melts my heart.
Lochte has been elated ever since he first announced that he and Reid were expecting their first child, even telling USA Today that he looked forward to changing his baby's diapers. Now with Caiden's arrival, he'll have plenty to do. Lochte will also have a lot more to look forward to in the months ahead — he and Reid will reportedly tie the knot this fall.
If you can't get enough of the new Lochte family, you're in luck. The whole family will be in an upcoming issue of Us Weekly, which Lochte teased to on his Instagram on Wednesday (which means more cute photos of Caiden and company).