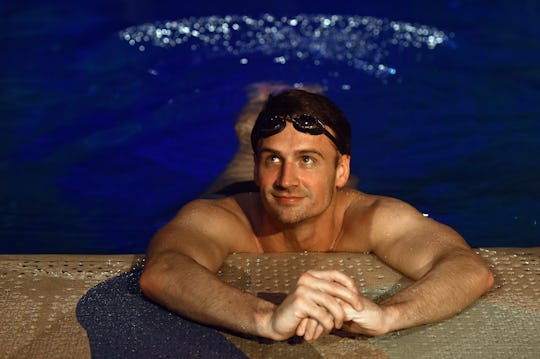 Ethan Miller/Getty Images Entertainment/Getty Images
Ryan Lochte & Kayla Rae Reid Are Having A Boy!
Olympic swimmer Ryan Lochte is adding a little swimmer to his family. In 2016, Lochte announced that he and fiancé Kayla Rae Reid were expecting. And now, in the new year, they're making another huge announcement. On Wednesday, Lochte and Reid revealed their baby's gender — and came up with a few name suggestions too, according to Us Weekly.
Let's cut to the chase — Lochte and Reid are expecting a boy! And luckily, the couple will have plenty of time to prepare for the little one's arrival — according to Us Weekly, the couple is expecting their brand new bundle of joy this June.
Lochte revealed to the magazine that Reid is handling pregnancy well. "[Kayla] is doing amazing," Lochte told Us Weekly. "She just finished her first trimester and everything. Now she's starting to get her energy back." One would imagine that energy is needed to keep up with Lochte — an incredibly active swimmer who has attended the past four Summer Olympics and has won 12 total Olympic medals. Lochte could not seem happier about the news — and he should be happy, especially since his last year was filled with a roller coaster of highs (like competing on Dancing With The Stars) and lows (like getting rushed by protesters after his first performance on the show or being accused of a bevy troubling claims at the Rio Olympics, for which he was suspended from swimming for 10 months).
Lochte and Reid first announced that they were expecting in December, according to People, taking to their Instagram accounts to post their own sweet updates. Since then, the two have continued to post to their accounts, sharing photos and bump updates with followers.
But even though the couple has six months left to go before the baby arrives, it hasn't stopped them from already thinking of baby names. Lochte revealed little to Us Weekly about their baby's name, telling the magazine, "we want something unique. We still have time." Time is something that the couple — who got engaged in October — certainly does have. According to Us Weekly, Lochte and Reid are even waiting until after the baby is born to plan and have their wedding, similar to how Lochte's Olympic swimming teammate, Michael Phelps, waited one month until after his baby's birth to marry then-fiancé Nicole Johnson this past June — just after welcoming their son, Boomer, back in May.
It seems as if Lochte could not be happier about the gender of their baby. Who knows? Maybe the little tot will follow in his dad's footsteps and become an Olympic swimmer too.