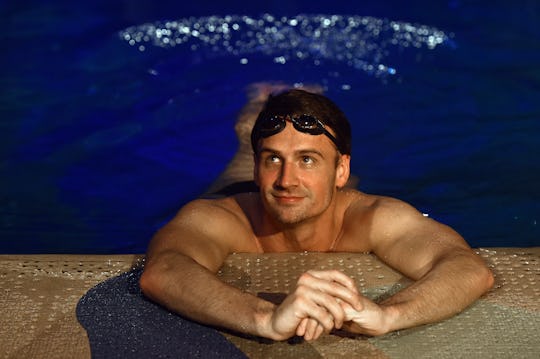 Ethan Miller/Getty Images Entertainment/Getty Images
Ryan Lochte & Kayla Rae Reid Welcome A Baby Boy
It's gold medal news for one Olympic swimmer on Thursday: Ryan Lochte and Kayla Rae Reid welcomed a baby boy early Thursday morning, E! News confirmed. The couple announced their pregnancy in December, and this is their first child together. After going public with their relationship during the 2016 Olympic Games in Rio de Janeiro, Brazil, Lochte and Reid got engaged in October. Their Instagram underwater pregnancy announcement in December is definitely up there with the likes of Beyoncé's artfully choreographed and even Serena Williams' unintentional pregnancy announcements on social media.
Baby boy Lochte was born healthy at 5:46 a.m. on Thursday morning, according to a statement provided to E! News. There's no word yet on how the birth went — did it go swimmingly for Reid? Sorry, I couldn't help myself. But seriously: After the news of George and Amal Clooney's twins' birth and their shockingly "normal" baby names for a celebrity couple, fans are waiting to hear if Loche's signature catchphrase "Jeah" will become the baby name hotness of 2017. Lochte did tell Us Weekly in January that he and Reid wanted to name their baby boy "something unique." Maybe they will have named their baby after something related to swimming or the Olympics?
The six-time Olympic gold medalist was recently profiled in ESPN The Magazine as number 67 in their World Fame 100 ranking of top athletes. Lochte told the magazine that the forthcoming arrival of his son is an inspiration to him, and that he plans to compete in the 2020 Olympic Games in Tokyo, Japan.
Everything happens for a reason. Look, I was done with swimming back in 2013. I was drained, wiped out. Now I've found a new purpose with my son. This fire has been ignited, and it's bigger than ever, and I'm just so excited because I know what's going to happen in Tokyo. Everyone is going to have to watch out!
He told ESPN that he's wanted a family for years, citing loneliness and exhaustion, and that he's found his "best friend" in Reid. Following the 2016 games, Lochte was embroiled in a bizarre scandal dubbed "Lochtegate" at the time, the 32-year-old swimmer has worked hard to come back from the public image disaster left in the wake of his false robbery claims on the streets of Brazil. With his ESPN profile, the birth of his first child, and a forthcoming wedding to his best friend, Lochte has certainly started to rise from the ashes of last year's Olympic-sized drama.
Congrats to Lochte and Reid, and welcome to parenthood.