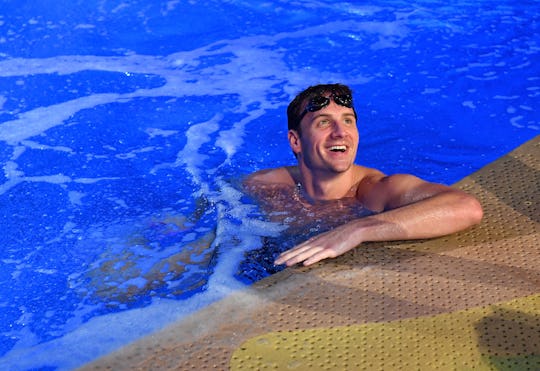 Ethan Miller/Getty Images Entertainment/Getty Images
Ryan Lochte & Kayla Rae Welcome Their Second Child, & Post First Photo
It looks like congratulations are in order for one former Olympic swimmer. No, not Michael Phelps — it's actually his teammate Ryan Lochte. Because as it turns out, Ryan Lochte and Kayla Rae welcomed their second child. And the first photo is simply precious.
On Sunday, June 17, the elite swimmer took to Instagram to reveal the arrival of his second child. "Miracle #2 witnessed. Liv Rae Lochte was born today at 10:20am. 7lbs 8oz. At 20inch long," he wrote, alongside a photo of himself helping his toddler son hold the newborn. "She is perfect in every way! #blessed #daddysgirl #lochtefamilyof4."
Meanwhile, the proud new mom of two a series of photos featuring their newest addition on her Instagram. The main image was of herself breastfeeding baby Liv. But there were several others — including the same, sweet shot of Lochte, 2-year-old Caiden, and the baby. "We did it!!! A healthy baby girl 🌸," Kayla wrote. "Liv Rae Lochte you're so sweet and so beautiful. Seeing Caiden's reaction was an absolute cherry on top. Birth is hard, rewarding and amazing!! Our bodies are truly incredible. She was born at •10:20 am •6/17/19 • 7lbs 8oz •20 in#imtired 😴🤪."
Take a look at the first photos of baby Liv for yourself!
As People reported, the Lochtes announced they were expecting baby number two in November. "BOOM!!!! Baby number 2! Can't wait to bring my fam of 4 to #tokyo2020," Ryan wrote on Instagram, along with a photo of himself holding a sonogram next to his wife and son. "Caiden is hands down the best part of our lives, so we can't wait to grow our family together and watch him become a big brother!" the couple People at the time.
In December, the Lochtes shared via Instagram that they were expecting a baby girl, E! Online reported. "Yes!!!!! It's a girl! I guess @caidenzanelochte wanted a boy haha #girl #soblessed #cloud9," Ryan captioned a photo of himself joyfully celebrating next to a box with pink balloons in it — while Kayla looks equally excited holding a visibly upset Caiden.
As E! reported, Ryan and Kayla welcomed their first child in June 2017. They officially tied the knot in January 2018 at a courthouse in Gainesville, Florida. However they ended up having a second ceremony in September 2018 in Palm Springs, California.
Although Ryan included the hashtag #tokyo2020 in his Instagram pregnancy announcement in November, it's worth mentioning that he is currently banned from competition. With 12 Olympic medals, it's true Lochte is the second most decorated Olympic swimmer of all time. Unfortunately, he is also finishing up a 14-month ban due to a doping violation in June 2018, according to The Guardian.
The ban came after Lochte posted a photo of himself receiving an IV drip via Instagram. Although he didn't test positive for any banned substances, a new rule by the U.S. Anti-Doping Agency (usada) prohibits IVs unless they are "legitimately received in the course of hospital treatment, surgical procedures, or clinical diagnostic investigations," according to the publication. Still, that means he'll be eligible way before the 2020 Olympics in Tokyo roll around.
Competition eligibility aside, I'm sure it won't be too long before Ryan Lochte is teaching his newest addition to swim. Congrats on your baby girl! She's definitely a cutie.