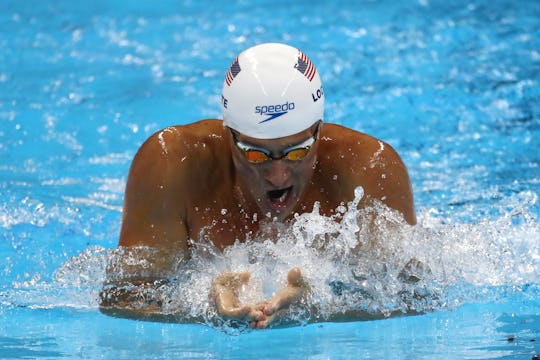 Al Bello/Getty Images Sport/Getty Images
Ryan Lochte Lost His Speedo & Ralph Lauren Deals, & There Could Be More To Come
In the wake of #Lochtegate, when it was discovered that Team USA swimmer Ryan Lochte had lied about being robbed at gunpoint in Rio, many wondered what would happen to the athlete. The total fallout from his actions is still to be seen, but it was confirmed Monday that Ryan Lochte lost his Speedo and Ralph Lauren sponsorships — and experts expect it won't be the end of the backlash for the athlete.
According to USA Today, Speedo announced in a statement that they were choosing to end Lochte's deal and would be donating $50,000 from his fee to charity, saying "they could not condone the behavior that is counter to the values this brand has long stood for." Lochte had been involved with Speedo for more than ten years, and had seemed to be a natural choice as a 12-time Olympic medalist. But after going on record saying that he and three of his teammates were robbed by gunmen impersonating police officers after they'd had a night out in Rio August 14, it was discovered that they'd actually been confronted by a security guard at a gas station after they'd allegedly broken down the door. Lochte eventually issued an apology, and told NBC's Matt Lauer that he "over-exaggerated" the story, but it hasn't appeared to do much in terms of damage control. Following Speedo's announcement, Ralph Lauren also announced that they were dropping Lochte, according to The Washington Post.
According to sports marketing expert Bob Dorfman, the response by Lochte's sponsors isn't at all surprising. Dorfman told CBS News that "Lochte has damaged his brand irreparably, created an international incident and proven how stupid he is," adding that the choice to drop Lochte was likely an easy one, given that he was already having a difficult time staying relevant before the scandal:
No sponsor wants to attach their name to an athlete like that. What's more, at 32 his Olympic career was already over after Rio. [It] would've been hard for him to stay top of mind, even if hadn't instigated LochteGate.
Public relations expert Joe Favorito agreed, telling USA Today that there was little Lochte could do to keep from losing his deals once he lied about being robbed:
In this day and age, there's one pretty important rule that anybody in the public eye should think about: Don't lie. We live in a world where everything is going to be exposed. Brands are always looking for honest and authentic representatives because there's so much competition. There are so many Olympic athletes who you can choose from. You don't need any nonsense.
Lochte still has two endorsement deals remaining, according to The Washington Post, with Gentle Hair Removal and Japanese mattress manufactuer, Airweave. For now, Airweave has committed to keep Lochte on "as long at [their] partnership agreement remains effective," while Gentle Hair Removal said it would "reserve decisions until we have a more complete understanding of the situation."
As for the three other athletes involved in the scandal, #Lochtegate is likely to have serious consequences for them, too. Gunnar Bentz and Jack Conger both won gold in Rio alongside Michael Phelps for the 4x200m relay during what was their first-ever Olympics, but according to Fortune, it will likely be difficult for either of them to attract any major sponsorships if they attempt to turn pro now that their names have been attached to the gas station cover up in Rio. Swimwear company TYR Sport currently sponsors the fourth swimmer, Jimmy Feigen, but hasn't yet commented publicly about whether that will continue.
Of course, it's hard to feel bad for Lochte: not only did he allegedly vandalize a bathroom and generally act like a drunken buffoon, he then lied about it, eventually releasing a half-hearted apology when he got caught saying he should have been "more careful and candid" (um, yeah). But surely, as a seasoned professional athlete, Lochte would have certainly seen the end of his sponsorships coming as an inevitability of his behavior — and hopefully that, in all fairness, it's pretty much exactly what he deserves.