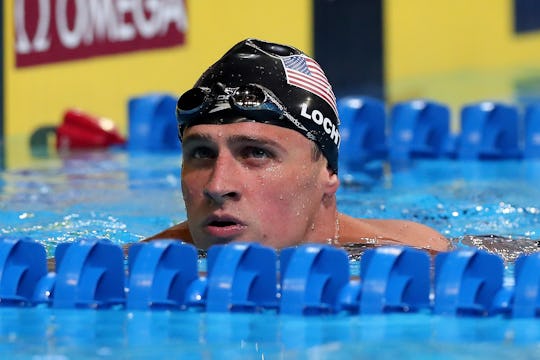 Tom Pennington/Getty Images Sport/Getty Images
Ryan Lochte Memes That Will Make You Genuinely LOL
Some athletes will do whatever it takes to gain that certain competitive edge as they gear up for Rio's Olympics, which kick off this Friday, Aug. 5. Same goes for certain spectators who have a humorously keen eye for the hilarious moments some Olympians present to them on a silver platter. Handing over some new material on Monday was 11-time Olympic medalist Ryan Lochte, who updated his hairstyle and posted his new, strikingly-icy blue hair on social media. In just a few days, audiences around the world will be tuning in to watch the glory of physical excellence that's happening in Brazil, but until then, these Ryan Lochte memes will remind us that swimming's super dreamy reformed party boy might be just as talented and beautiful as he is fratty and egotistically derpy.
The Olympic swimmer has given some adorably painful television interviews throughout his athletic career, which have proven he is simply terrible at giving them and as a result have inspired many memorable memes. One golden example of his lack of television finesse was during an interview in 2012 with TV4 Sport Sweden.
"What defines me?" he asked himself during the interview, then pausing for a brief moment. "Ryan Lochte."
The Olympic medalist has been in the spotlight for more than a decade now, so let's have a look some hilarous memes inspired by Lochte that will get you amped for new round of interviews, and eventual internet gold:
Even though Rio will be Lochte's fourth time competing in the Olympics, he said in a recent interview with Fitness Magazine that it feels like his first time all over again, but doesn't feel nervous. He also talked about his favorite pick up line — "Hey!" with a smiley face — and his plans to take a major break from swimming after Rio.
"Now I'm 31, going on 32," Lochte said in the Fitness Magazine interview. "So it's definitely about time where I mentally get away from the sport. I definitely need that. Who knows if I'll keep swimming or not. I told myself I'd stop once I stop having fun, but I'm having a blast right now. So I can't say this will be my last Olympics."
Lochte might be a goof on camera, but he's pretty suave and skilled in the swimming pool. Hopefully he'll deliver a few more gems for the internet to work with before taking a break from the sport, but in the meantime, we can at least remember that he once said: "Not to have a big head about it, but people love me."
Internet gold.