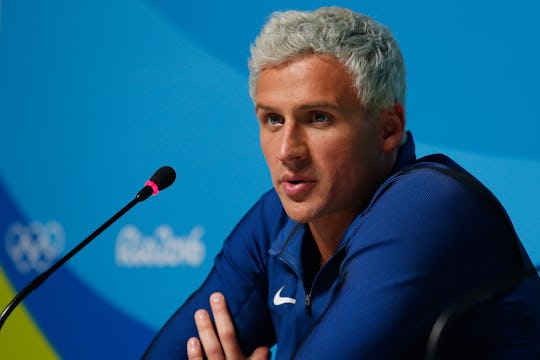 Matt Hazlett/Getty Images Sport/Getty Images
Ryan Lochte Talks To Ellen Degeneres About Swimming Suspension & Focusing On The Future
This summer has been a summer of highs and lows for Ryan Lochte. Lochte started out the 2016 Summer Olympics by winning a gold medal in the Men's 4x200 Freestyle Relay, but quickly took a turn for a worse during one night in Rio. To cap off the lows, on Wednesday, it was announced that Lochte has been suspended from swimming for 10 months. In recently released clips, Ryan Lochte talks to Ellen Degeneres about swimming suspension — hoping to put the past behind him.
On Thursday morning, USOC and USA Swimming announced the punishment of Lochte and the three swimmers — James Feigen, Jack Conger, and Gunnar Bentz — who had been involved in a reported night of partying after Olympic swimming had ended, according to USA Today. That night of partying resulted in "the Rio incident" — with Lochte reportedly "exaggerating" details from the night's events and apologizing for his actions. The punishment involves a 10-month swimming suspension for Lochte; his representatives did not respond to request for comment.
Lochte, however, looks to put Rio in the past and focus more on his future, shown in clips from his appearance on The Ellen Degeneres Show which is slated to air on Monday.
Lochte is honest with Degeneres about his emotions post-Rio scandal, telling her:
I reached the lowest point of my entire life that I never thought I would go to. I was in a really dark place and I didn't know if I should come out, just hide my entire life.
And just as honest about his 10 month suspension from swimming:
You know, I've been swimming my entire life and I've never taken a break, and for someone telling me that I can't do something I've been doing my entire life...it's heartbreaking and it stinks.
But Lochte has a reason to be hopeful about the future and to come back in the public eye — he is a cast member on this season's Dancing With The Stars, which premieres this upcoming Monday. As a cast member, Lochte will compete for a different kind of sporting medal — and now that he is suspended from swimming for 10-months, have a different place to focus his skills.
While Lochte can't focus on competitive swimming for the next 10 months, he can definitely focus on the future, telling Ellen, "...there is so much more I want to accomplish in the sport of swimming, so I do know that I'm still going to be training, and when I do come back, I'm definitely going to be a better swimmer and a better person."
Ryan Lochte has a lot to look forward to in his future. His Dancing With The Stars appearance is the first of many things to come for him.