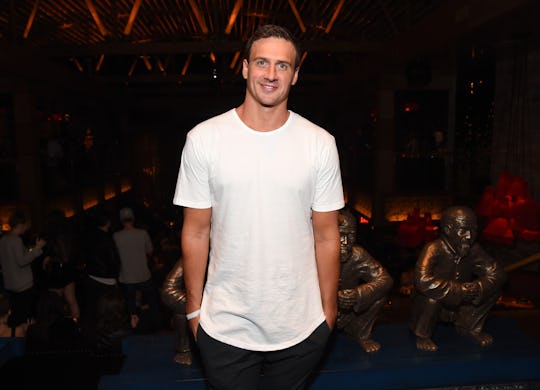 Michael Kovac/Getty Images Entertainment/Getty Images
Olympic Swimmer Ryan Lochte Announced He'll Soon Be A Dad Of Two
Olympic swimmer Ryan Lochte is known for his fun, candid personality during the Summer Olympics, where he is also known for winning medals for Team U.S.A.. But now, people will have to get to know him in his biggest role as "Dad." On Friday, Ryan Lochte and wife Kayla Rae announced they're expecting baby number two in the sweetest way, and it couldn't be any more exciting for the couple.
Lochte and Rae didn't beat around the bush with their announcement — they made it very clear that they were expecting a second child right away. In the photo, posted to Lochte's Instagram account, Lochte and Rae can be seen with the biggest smiles on their faces, while Lochte holds a photo of Raes sonogram. If this didn't emphasize the fact that Rae is pregnant, then their son, Caiden Zane, looking at his tummy, drives it home. Bottom line: the family is growing by one more, and every single member of the family is clearly ecstatic about it.
"BOOM!! Baby number 2!," Lochte captioned the photo.
But Rae's caption of the same photo (on her own Instagram account) is just a bit more revealing than Lochte's. "We are so, so excited! Baby #2," Rae captioned the photo. "We can't wait to meet you already!!"
The family of three will get to meet their newest addition within a matter of time — Rae revealed in the Instagram post that she is due in June 2019, which means she is still in her first trimester of pregnancy.
The couple told People that they are so excited to meet their newest addition, solely based on how much joy their son already brings them.
"Caiden is hands down the best part of our lives, so we can't wait to grow our family together and watch him become a big brother!," the couple said.
The family's path to their new addition has been nothing short of an adventure. In December 2016, Lochte announced that he and his then-fiancé were expecting their first child together, according to Entertainment Tonight. Just a few months later, Kayla gave birth to their first child — son Caiden Zane Lochte, who was born on June 8, 2017. The couple had a courthouse wedding this January, according to E! News, but renewed their vows in a proper ceremony in front of friends and family (and their son) in September.
Now that Caiden is a year old and the family is clearly thriving, it makes sense that they would add another little one into the mix.
It really does make so much sense, especially since Lochte loves being a dad. Last year, Lochte told Inside Edition that being a dad is a million times better than winning an Olympic gold medal (which he has done six different times). Lochte said:
Being a dad is 10 times better. I could win 80 million gold medals and it wouldn't compare.
But it seems like Lochte has set his sights on winning another gold medal, in addition to becoming a dad for the second time. In Lochte's newest announcement, he also revealed in the caption that he plans on bringing his family to Tokyo for the 2020 Summer Olympics. But it makes sense, since he has talked about how he has set his sights on representing Team U.S.A. and hopes to swim in the 2020 Summer Olympics before. Although he still has to qualify for the Olympics, first, he has plenty of motivation — his son and growing family.
Lochte told NBC Sports earlier this summer that he hopes his goal for competing in the Olympics in two years sets an example for his son to never give up on his dream. "I want to show him about dedication, hard work, and commitment," Lochte said.
And now Lochte will have the chance to teach that to his second child with Rae. He clearly loves being a dad, and you can tell that he is so excited to become one again when his wife gives birth this summer.
Congratulations to the couple!
This first-time mom wants to have a home birth, but is she ready? Watch how a doula supports a military mom who's determined to have a home birth in Episode One of Romper's Doula Diaries, Season Two, below. Visit Bustle Digital Group's YouTube page for the next three episodes, launching every Monday starting November 26.