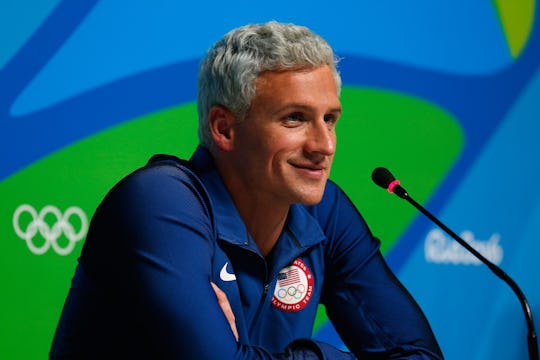 Matt Hazlett/Getty Images Sport/Getty Images
Ryan Lochte's Apology Proves Why The "Boys Will Be Boys" Mentality Hurts Everyone
When the story first broke that U.S. Olympic swimmer Ryan Lochte and three of his teammates had been robbed at gunpoint after a night out in Rio Saturday, it sounded honestly horrifying. But when surveillance footage showed a different story — suggesting that he may have lied about the whole thing — Lochte offered up pretty tone-deaf apology, saying that he should have been more "careful and candid in how [he] described the events of that early morning." Unsurprisingly, Lochte has been getting skewered on social media for what appears to be straight-up lies, as well as for the huge double-standard in reporting that seems to be letting him off easy. And, the fact that he'll still likely be able to walk away from this scandal relatively unscathed is hugely disheartening. Ryan Lochte's apology, and the fact that he doesn't seem to be that apologetic at all, proves why the "boys will be boys" mentality that often surrounds male athletes is one that hurts everyone.
According to NBC News, following the incident Saturday night, Lochte himself initially told reporters that the taxi he and the other three men were riding in to head back to the Olympic Village had been pulled over, and that they were forced on the ground by robbers armed with guns claiming to be police officers. On Monday, Lochte told TODAY's Billy Bush,
We got pulled over, in the taxi, and these guys came out with a badge, a police badge, no lights, no nothing just a police badge and they pulled us over. They pulled out their guns, they told the other swimmers to get down on the ground — they got down on the ground. I refused, I was like we didn't do anything wrong, so — I'm not getting down on the ground.
And then the guy pulled out his gun, he cocked it, put it to my forehead and he said, 'Get down,' and I put my hands up, I was like 'whatever.' He took our money, he took my wallet — he left my cell phone, he left my credentials.
According to ABC News, Lochte's story then changed slightly when he spoke to NBC News' Matt Lauer Wednesday, and claimed that they'd actually stopped at a gas station to use the bathroom before being robbed at gunpoint after returning to their taxi. But police in Rio denied that the swimmers were robbed, and said that, in reality, the four men were confronted by a security guard after they'd stopped at a gas station and broken down the bathroom door.
Lochte's teammates Jack Conger and Gunnar Bentz were detained by police in Brazil Wednesday night prior to trying to depart for a flight home (Lochte and the fourth athlete involved, James Feigen, had already flown back to the U.S., according to People), and later allegedly told the police that the story of the robbery had indeed been fabricated. According to The Independent, authorities in Rio have since called for Lochte and Feigen to be indicted for false reporting of a crime, though it's not clear whether or not they can actually be charged. Romper received the following statement from USA Swimming Executive Director Chuck Wielgus via email:
The last five days have been difficult for our USA Swimming and United States Olympic families. While we are thankful our athletes are safe, we do not condone the lapse in judgement and conduct that led us to this point. It is not representative of what is expected as Olympians, as Americans, as swimmers and as individuals.
That this is drawing attention away from Team USA's incredible accomplishments in the water and by other athletes across the Olympic Games is upsetting. The athletes and their remarkable stories should be the focus.
We're extremely thankful of the support and efforts from the USOC, Department of State and U.S. Consulate General throughout this process. USA Swimming will undergo a thorough review of the incident and determine any further actions, per our Code of Conduct.
If Lochte does actually think he's done something wrong, it doesn't particularly seem that way based on his apology, which he shared on Twitter Friday. Writing that it's "traumatic to be out late with your friends in a foreign country — with a language barrier — and have a stranger point a gun at you," Lochte said that "[he accepts] responsibility for [his] role," and that he has "learned some valuable lessons," but stopped short at saying what his role even was. Does he take responsibility for damaging a gas station bathroom? For lying? For making it seem like he was a victim when he may have actually caused the whole thing?
What's more surprising though — and just as heartbreaking — is that instead of condemning Lochte for lying, Rio Olympic spokesperson Mario Andrada downplayed the entire situation. According to USA Today, Andrada told reporters,
I do not expect any apologies from him or other athletes are needed. They were trying to have fun, they came here and represented their country, trained for years, competed under gigantic pressure. I understand this issue is under investigation. Let's give these kids a break. They made a mistake. It's part of life. Life goes on.
Of course, that's not really true. At 32 years old, Lochte is definitely not a kid, and the pressure of training and competing at the Olympics is certainly not an excuse for lying about being robbed at gunpoint. And yet, the instinct still seems to remain to protect him, or to allow him to remain free of responsibility or consequence, on the basis of the same kind of privilege successful male athletes are often bestowed simply for existing, and being good at what they do.
As many on Twitter have already pointed out, if this incident had involved someone else — someone who wasn't a beloved, white, male athlete with a total dude complex — the reaction would have likely been totally different. If it had been a black athlete, or a female athlete, acting totally immature and belligerent in a foreign country and then going as far as lying about it to police, would it just be a "mistake," or an example of a kid who deserves a break? Team USA gymnast Gabby Douglas certainly didn't get off that easy recently after all, when, according to Us Weekly, she failed to place her hand over her heart on the medal podium when the national anthem was playing (how dare she!). And even though it's still not entirely clear why she even had to apologize in the first place, still, her apology seemed far more sincere than Lochte's.
It's not clear what — if anything — will happened to Lochte as a result of this scandal, or what will come to light as the investigation continues. But if nothing else, what seems clear is that Lochte felt pretty certain that he didn't particularly have to take any responsibility for his own actions that night in Rio. Even though, as a 32-year-old grown man and a top athlete, he definitely should have known better.