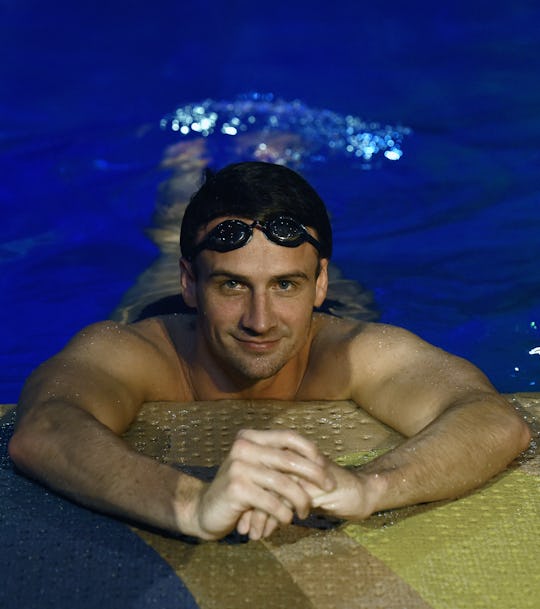 Ethan Miller/Getty Images Entertainment/Getty Images
Ryan Lochte's Olympic Promise To His Infant Son
As his 10-month suspension comes to an end, Ryan Lochte is planning for the 2020 Olympics and keeping his focus on the future. The Olympic gold medalist shared his mindset on Instagram this weekend in a series of touching posts. Among them was Lochte's promise to his infant son, and it's a tearjerker.
Lochte's suspension was the result of a scandal at the Rio de Janeiro Olympics in 2016. Following the scandal, the United States Olympic Committee, along with USA Swimming, issued him a 10 month suspension from his sport. He was also unable to participate in the 2017 FINA World Championships, with the committee citing violations of its Code of Conduct.
Now that the lengthy suspension is behind him, Lochte is back in the pool focusing on preparations for the 2020 Summer Olympics. He shared photos and video of himself in the pool, which feature him diving off of the high dive. Alongside him are his son, Caiden, and his fiancée, Kayla Rae Reid. Caiden was born in June of this year and is the couple's first child.
The Instagram post that contained Lochte's promise to little Caiden was captioned, "It's been a long suspension but it's over, I've learned and became a better man from it. Now let's go #2020 #teamtyr #2020isforyoucaiden #justletmework."
The scandal that led to Lochte's suspension involved what the Olympian called an "over-exaggerated" story of armed robbery. He originally claimed that he and several of his teammates, James Feigen, Gunnar Bentz, and Jack Conger, were robbed while in country for the 2016 Rio Summer Olympics. Lochte later recanted parts of his story after he and his teammates were accused of allegedly urinating on a building and tearing down a framed poster.
Lochte received the heftiest suspension of all those involved for his admitted "over-exaggeration." His teammates were given comparably short suspensions of just four months each.
In a 2016 interview with Matt Lauer, Lochte showed his remorse for his actions in Rio, stating,
The people of Rio... the authorities — they put on a great games. My immature intoxicated behavior tarnished that a little. I'm embarrassed for myself, my family — especially those guys. I was immature and I made a stupid mistake. I'm human. I made a mistake and I definitely learned from this.
Now that the suspension is up, Lochte has retained his remorseful attitude, but is hopeful as he moves forward in his career. And with his sweet promise to his son — that "2020 is about" Caiden — it seems he's more than ready to take on whatever the future throws his way.