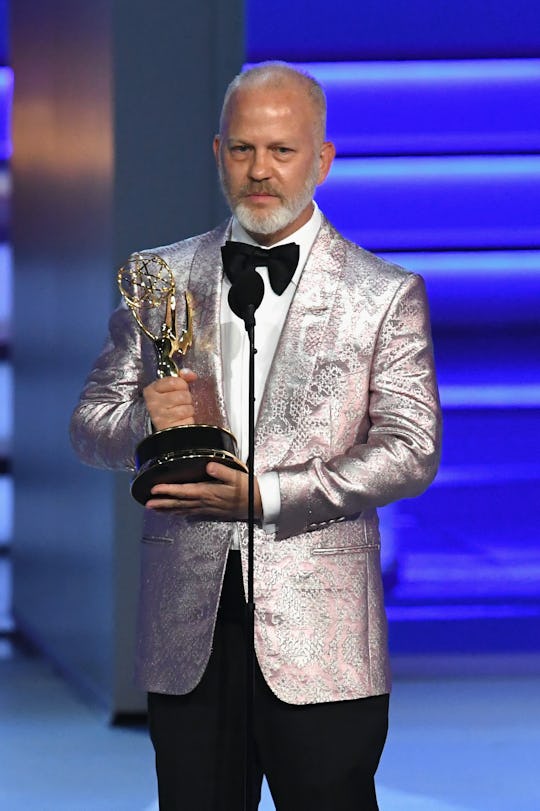 Kevin Winter/Getty Images Entertainment/Getty Images
Ryan Murphy Did Something Amazing When He Revealed His Son's Cancer Diagnosis
As the creator of a show called American Horror Story, you may think Ryan Murphy has seen some pretty scary things in his life. But there's nothing scarier as a parent than having to deal with your child being incredibly sick, which Murphy recently revealed is, understandably, a terrifying scenario he and his husband have lived through. Earlier this week, Ryan Murphy revealed his son's cancer diagnosis, and in the process, explained something really amazing his family did to honor the care his little boy received.
On Monday, Murphy — the mastermind behind such television hits as Glee, American Horror Story, Feud, and many other series — shared a photo of one of his sons on his Instagram page. He actually has two children with his husband, David Miller: 5-year-old son Logan, and Ford, who is now 4, according to Us Weekly. Ford is the little guy featured in Murphy's now viral Instagram post.
In the post, Murphy revealed that Ford was diagnosed with neuroblastoma two years ago. He described it as "an often fatal pediatric cancer" and said that his son's cancer manifested as "an abdominal tumor the size of a tennis ball." Indeed, according to St. Jude Children's Research Hospital, neuroblastoma is "a very rare type of cancerous tumor" and while it is treatable, high-risk patients have about a 50 percent chance at a five-year survival rate.
"I'd like you to meet Ford Theodore Miller Murphy," Murphy began his post celebrating his son's birthday. He described Ford as a "sweet little innocent boy with a deep belly laugh and an obsession with Monster Trucks," which makes Ford sound like a pretty awesome kid to hang out with.
Murphy explained that Ford's cancer was discovered "during a normal check up by his brilliant pediatrician Dr. Lauren Crosby @drlaurencrosby," proving the importance of regular pediatric check-ups for all kids, even if there's no indication that anything could be amiss with their health. Murphy continued to explain that Ford has been through "a huge surgery and several difficult procedures" since his diagnosis.
Murphy also praised his "better half, David Miller," for being "a rock" through the entire ordeal. He said his husband was "strong and patient and loving," while he "was always a trembling wreck" as their son underwent treatment for his cancer. "Ford was strong as well," Murphy wrote, and in happier news, he added that "today he is thriving."
Murphy noted that Ford is doing so well because of Children's Hospital Los Angeles, and announced that he and Miller are donating a wing in tribute to their son. He also revealed that their family is making a donation of $10 million dollars to the hospital in what can only be described as an incredibly generous gift. Murphy wrote that they made the donation "so that other children can experience the love and care of this exceptional facility," where no child is turned away.
Murphy went on to encourage others to make a donation as well, truly turning his son's awful diagnosis and his family's ordeal into a really wonderful opportunity to do some good in the world.
A quick look at Murphy's Instagram indicates that he's fairly private about life with his family, as he mostly posts images of cast members from his shows or other promotion there. So the fact that he chose to go so public with his son's diagnosis is a true testament to how scary it was for Murphy and his family to go through, and how much they want to help other families going through the same thing.
Thankfully, Ford seems to be doing well these days, but other children may not be so lucky. If you'd like to learn more about CHLA's mission or donate or fundraise to help other kids like Ford, check out the hospital's website here.