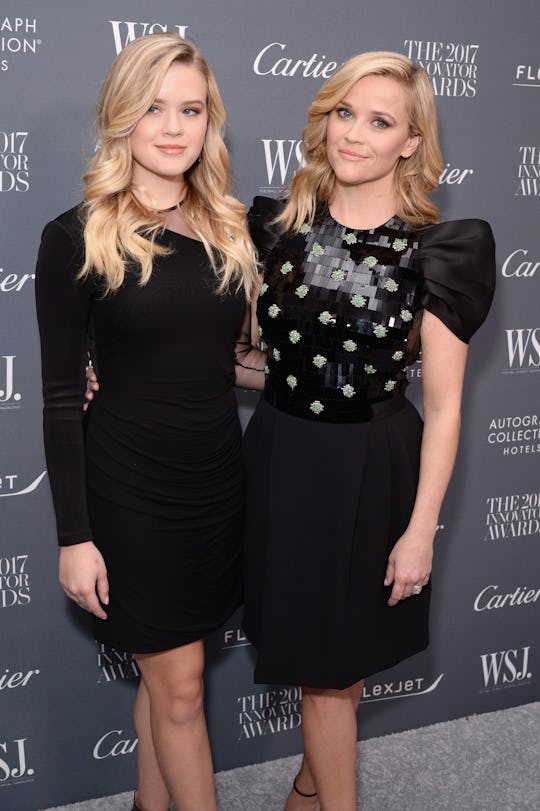 Andrew Toth/Getty Images Entertainment/Getty Images
Ryan Phillippe's Birthday Message For Ava Proves She Looks *Just* Like Her Mom
If, like me, you grew up worshipping Cruel Intentions-era power couple, Reese Witherspoon and Ryan Phillippe, then you might be finding it pretty hard to believe that the former couple's daughter, Ava, all grown up. But on Sunday, Ryan Phillippe posted an Instagram birthday message for Ava, and in it she not only looks incredibly beautiful but happens to be the total spitting image of her famous mama. In his post, Phillippe shared a photo of his daughter sitting at a table wearing a green dress, and his sweet caption read, "my little [star] on her birthday. love you, punk. such a proud dadish, i."
To be fair, both Ava and her brother, Deacon, look quite a bit like their dad, but the photo — along with practically ever other photo of Ava ever taken — was definite photographic proof that Ava and Witherspoon have pretty much always been twins. But lest anyone remain unconvinced, Witherspoon's own birthday post for her daughter more than sealed the deal: on Sunday, she also shared a photo of Ava, and wrote, "Happy Birthday to my girl @avaphillippe! You are the sunshine in my life! Love you to the moon and back!"
Witherspoon and Phillippe officially ended their marriage in 2007, according to E! News, and she's since remarried and had a third child and 6-year-old son, Tennessee. But despite their split, Witherspoon and Phillippe seem to have done a great job raising their two children — both Ava and Deacon regularly appear on their parents' social media accounts, often either in sweet family shots, or in throwback photos, most of which usually involve plenty of gushing commentary from their proud mom and dad.
In honor of Ava's 18th birthday in 2017, for example, Phillippe shared a series of photos — including a collage of photos of the two together when she was young — along with the caption, "happy birthday, punk. i love you more than any strangers need read, but..." And in a follow-up post, he shared a separate shot of his daughter, and called her the "most beautiful daughter a father could ever have."
From the looks of it though, Witherspoon was also in a reminiscing mood on her daughter's 18th: in Sept. 2017, she shared a throwback photo of the two of them together, and honestly, even as a preschooler, Ava was already her mother's mini-me:
But judging from Ava's own Instagram account, it's pretty clear the adoration is totally mutual. In May, Ava posted a sweet Mother's Day post for Witherspoon, and shared a photo of them snuggling in bed — in matching outfits! — when Ava was just a little girl. In the caption, she wrote, "happy mother's day, mama! I'm so glad we've gotten to grow together and support each other. love you!" And in Sept. 2017, Ava shared a photo of her famous dad, and wrote, "happy birthday, dadish! love being your early bday present" (Phillippe's big day is only one day after his daughter's.)
Ava's parents aren't the only ones who have been on the receiving end of her loving Instagram tributes though — she's also shared a number of sweet posts in honor of her young brothers. In April, for one, she posted a black-and-white photo with Deacon and Tennessee for National Siblings Day, and wrote, "life would not be nearly as fun without you guys, and I love being your big sister." And in honor of Deacon's 14th birthday in 2017, Ava shared an adorable photo of her holding her brother when he was born, and wrote, "Congrats on being way cooler at 14 than I am at 18. I'm so lucky to have you around. Love you so much, and I hope you have an awesome day!"
It's certainly not a given that a one-time high-profile Hollywood couple like Witherspoon and Phillippe would manage to continue to have such well-adjusted kids, but from the looks of it, the family still has a whole lot of love and respect for each other — and Ava and Deacon both seem pretty down-to-earth despite growing up with famous parents. In fact, if they didn't have hundreds of thousands of Instagram followers, Phillippe and Ava would more or less seem like any other proud dad-and-daughter duo on social media. And it's so sweet to get a glimpse into their relationship.