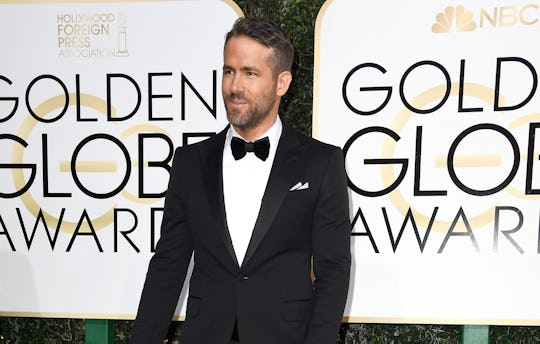 Frazer Harrison/Getty Images Entertainment/Getty Images
Ryan Reynolds & Andrew Garfield Kiss At The Globes
Sunday's 74th annual Golden Globe awards has been full of some weird moments. First, the teleprompter died as soon as the show opened for host Jimmy Fallon's opening monologue. Then there were lots of Trump jokes. John Legend's name was spelled wrong. And then, as Ryan Gosling was announced as winner for Best Actor in a Comedy or Musical for La La Land, actors Ryan Reynolds and Andrew Garfield kissed at the Golden Globes while sitting at their table. Yanno, like ya do.
As Gosling walked up to the stage, the camera cut to Reynolds, who was strongly favored for the Golden Globe win for his titular role in Marvel's Deadpool. Fellow Marvel universe and Spiderman actor Garfield just happened to be at Reynolds's table, and as soon as the camera panned to the two of them, BAM! Two of Hollywood's yummiest male actors just having a full on mouth-to-mouth smooch. Clearly, Reynolds and Garfield must have worked this out beforehand, because the timing was just too perfect. It was legitimately a "blink and you'll miss it" moment — but thank goodness we have the magic of the internet to preserve this amazing moment in perpetuity.
Fans on Twitter immediately started celebrating the moment in all its glory as soon as it happened.
For one very brief, shining moment, SpideyPool fanfic nerds everywhere rejoiced. (For those not in the know: SpideyPool refers to the Marvel crossover comic, Spider-Man/Deadpool.) It was too great of a moment for nerds to miss — but, really, it was too great of a moment for anyone to miss.
Reynolds was attending the Globes as the result of a nomination for Deadpool, while Garfield for his nomination for Hacksaw Ridge, according to Us Weekly. Though the SpideyPool reference was peak internet and nerd, arguably the best part of the interaction was the look on Blake Lively's face. According to Us Weekly, she wasn't at all phased, and she continued clapping for Gosling as he walked up to the stage to receive his award. It definitely wouldn't be out-of-character for Reynolds, who has become even more Twitter famous since the birth of his two daughters, whom he loves dearly but who also seem to give him a plethora of hilarious material to tweet:
Clearly the two had planned the moment, but they weren't trying to make an inappropriate joke. They were just friends, being goofy and cheering on an achievement by another of their friends.